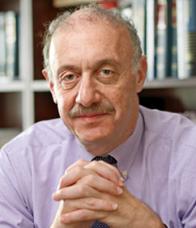 After several years of intense activity in the class action realm, the Supreme Court appears satisfied to allow the case law in the Circuits to mature.  The most recent cases, such as the second round of Halliburton v. Erica P. John Fund, 134 S.Ct. 2398 (2014) on fraud on the market in securities cases, did not offer any fundamental changes to the status quo. 
Perhaps the most significant of the cases that the Court did not take involved petitions from certiorari in what are known as the washing machine cases from the Sixth, Seventh, and Ninth Circuits.  These cases involved claims that a design defect in front-loading washing machines resulted in mold accumulation and compromised the functioning of the products.  The Sixth and Seventh Circuit cases, Glazer v.  Whirlpool and Butler v. Sears, brought claims over washing machines manufactured by Whirlpool.  The Ninth Circuit case, BSH v. Cobb, challenged a similar alleged defect in machines manufactured by Bosch.  Following the Sherlock Holmes maxim on paying attention to the dog that did not bark, there is value in looking a bit more closely at the cases the Court did not review.
In each of the washing machine cases, Court review was sought on the grounds that classes certified to include consumers who may not yet have experienced the defect's manifestation violated Article III of the Constitution in reaching beyond actual cases or controversies.  The Sixth and Seventh Circuit cases have a complicated procedural history as the first class certification was vacated in light of the Court's decision in Comcast Corp. v. Behrend, 133 S. Ct. 1426 (2013), and then recertified by the courts of appeals.  On remand, both Circuits emphasized the importance of aggregate treatment of small value consumer cases and held that, under Rule 23(c)(4), the central issue of whether the machines were in fact defective could be tried on a classwide basis.  The Circuit decisions and the second round of petitions for certiorari and opposition are all linked here. (I should note that I was counsel of record in opposition to certiorari in these cases.)
The first of the post-cert denial washing machine cases went to trial in Ohio, involving a statewide claim of breach of warranty under Ohio law.  We all know that few cases go to trial on anything anymore, so trial alone is unusual as the following Table shows: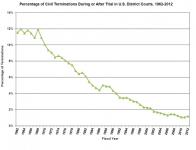 And we further know that this is true of both bench and jury trials.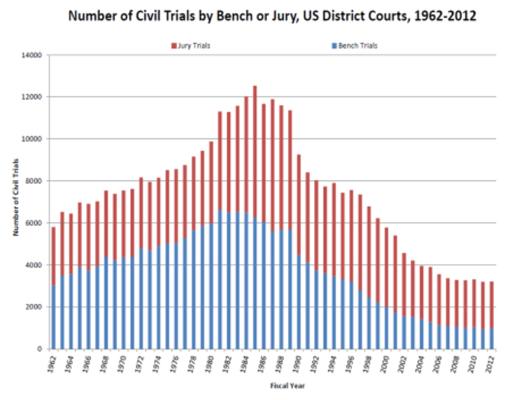 With all these statistics, keep in mind that the number of judges has more than doubled since 1962, as has the U.S. population.  The slides are from Marc Galanter and Angela Frozena, A Grin Without a Cat: The Continuing Decline and Displacement of Trials in American Courts, which appeared in the Summer 2014 issue of Daedalus.
Thus it was noteworthy to have a trial at all, particularly in a class action case that was organized to be dispositive on the threshold issue of liability vel non.  The cases went to trial with heavyweight trial teams on both sides, led by Richard Heimann of Lieff, Cabraser, Heimann & Bernstein for the plaintiffs and Phil Beck of Bartlit Beck for the defendants.  After nearly three weeks of trial, the jury rendered a unanimous verdict for the defense.  Two of the more analytic pieces of press coverage are here:
"Whirlpool Wins First Round Of 'Smelly Washer' Litigation But More Trials Loom" (Forbes, 10/31/14)
"Why Whirlpool's win in moldy washer trial vindicates consumer class actions" (Reuters, 10/30/14) 
— Samuel Issacharoff, November 2, 2014