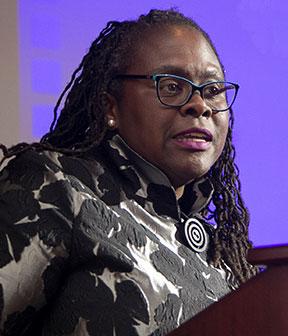 "[Derrick Bell], through his work, convinced me to remain in law school," said Angela Onwuachi-Willig, dean of Boston University School of Law, in the 23rd annual Derrick Bell Lecture on Race in American Society.
Bell, a lawyer and civil rights activist who was one of the originators of critical race theory, was a full-time visiting professor at NYU Law from 1990 until his death in 2011. The Bell Lecture series began in 1995 as a celebration of Bell's 65th birthday. Now sponsored by the Center on Race, Inequality, and the Law, the series continues as a tribute to his life and work.
In her remarks, Onwuachi-Willig recounted the pivotal role that Bell and his work played in her own life and career. She recalled that at first she felt alienated in law school, finding that some of her peers did not seem to share her ambition to use her law degree to do justice. Then she joined a reading group of 2Ls, who introduced her to critical race theory through Bell's science fiction short story "Space Traders."
Bell's story asks whether Americans would agree to make a trade with alien invaders: advanced technology and gold from the aliens in exchange for all Americans categorized as black. Reading it, Onwuachi-Willig said, was a revelation.
"It spoke to my experience as a black Southern woman from an economically disadvantaged background in the United States, and it helped to fill the void of silence about race," she said. Moreover, learning about critical race theory reaffirmed to her that she was on the right path. Years later, she won the Association of American Law School's 2006 Derrick A. Bell Jr. Award, which is awarded to a junior faculty member for contributions to legal education, the legal system, or social justice.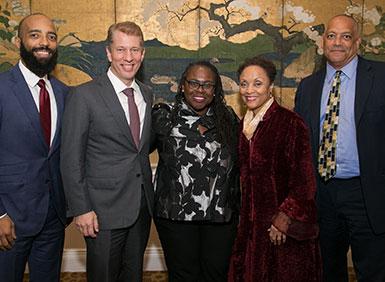 Onwuach-Willig pointed to another lesson from Bell's work—in this case, his 1992 book, Faces at the Bottom of the Well—in which he argued that "racial patterns adapt in ways that maintain white dominance" as being particularly relevant today. "The fact that racism operates today in different ways than it did in the past… does not mean that racism is not present," she said. "It does not mean that racism is not a current and pressing problem in our society."
Citing Bell's argument, Onwuachi-Willig compared the deaths of Emmett Till, who was lynched at age 14 after being accused of whistling at a white woman in Mississippi in 1955, and Trayvon Martin, who at age 17 was fatally shot by a neighborhood watch member in Florida in 2012. Both Till and Martin, she said, were young black teenagers visiting relatives in racially tense areas that were different than the environments where they had grown up. In Sanford, Florida, Martin "was walking in a neighborhood where residents, much like white Mississippians in 1955, were fighting to preserve the whiteness of their neighborhood, or rather the meaning accorded to white spaces," she said.
"The comparison raises questions about far we have truly come, when past injustices simply seem to emerge in new forms," she said. "Much like Professor Bell might have explained to us, the killing of Trayvon Martin and other police and quasi-police killings that have occurred in recent years are in many ways adaptive forms of racism that previously took the form of lynchings like the killing of Emmett Till."
Not only were the killings of Trayvon Martin and Emmett Till unjust, but in both cases, those responsible went unpunished, she said: "As a group, African-Americans have experienced cultural trauma not only in relation to killings like those of Emmett Till and Trayvon Martin, but also in relation to the acquittals that were handed down at the end of those trials, and more so, the non-indictments and acquittals that have seemed to become routine in our society."
Onwuachi-Willig said she has embarked on a project to examine these recurring cultural traumas. "Understanding these patterns… is necessary if we are ever to devise strategies for eliminating their effects in society," she said.
Watch video of the 2018 Derrick Bell Lecture on Race in American Society:
Posted December 18, 2018