NYU School of Law announced that it is receiving an unrestricted $20 million gift from Stephen M. Ross LLM '66, chairman and founder of Related Companies and owner of the Miami Dolphins.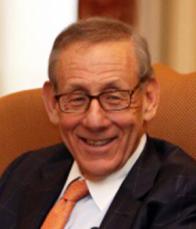 Ross received his Master of Laws in Taxation from NYU Law in 1966, and went on to an exceptional career in law and business. He is also a committed philanthropist, with a particularly deep dedication to education. His current donation, largely in the form of a bequest, is the single biggest gift in NYU Law's history.
"Steve has credited his experience at NYU Law as being critical to his success, and it is enormously gratifying that he is giving back this generously, so that others may similarly benefit," said Dean Trevor Morrison. "Our current fundraising is focused on increasing available financial support for students, and this extraordinary gift will contribute greatly to that effort."
At an event at the Law School last year titled "Leveraging Your Law Degree into a Lifetime of Leadership," Ross said the time he spent at NYU Law was "really by far the best year of my life and probably the most influential." A legal education, he said, taught him to think and solve problems in a way that benefitted him as both a lawyer and a businessman.
In a statement regarding his gift, Ross said, "When you have the opportunity as a benefactor to have a real impact on society, you want to focus on institutions that can have a transformative effect on people's lives. I think NYU Law is that kind of place."
Ross has been involved with the Law School in a number of ways in recent years. In late 2013, he reached out to Morrison to address issues of respect in sports, in the wake of allegations that players on the Miami Dolphins had been involved in episodes of locker room bullying.  That led to collaboration among NYU Law, the NYU Sports and Society Program, and Ross to develop proposals to promote a culture of civility and respect in sports. 
Posted September 8, 2015