On June 9, just over a month after he assumed office as the 27th US secretary of labor, Alexander Acosta delivered the luncheon address at the 70th annual Conference on Labor at NYU School of Law. Analyzing recent changes in the workforce and envisioning future solutions for a job market being transformed rapidly by modern technology, Acosta focused on two main subjects: the skills gap in employment and the rise of the "gig economy."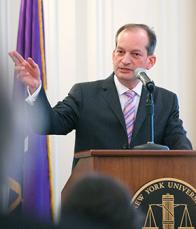 According to Acosta, employers are struggling to find properly qualified candidates to fill vacancies. Apprenticeship programs for college students, he said, might help to close the gap between the skills of recent graduates and the qualifications expected by employers, adding that the mix of classroom study and hands-on training students receive in medical school could provide a blueprint for other professions.
"IT, health care, business services, hospitality…. [A] number of industries are looking at the apprenticeship model," he said. "We at the Department of Labor will be committed to promoting apprenticeships across all professions."
Acosta also discussed the rise of the "gig economy," in which workers are employed on a per-task basis by many employers rather than steadily with one long-term employer. A familiar aspect of the gig economy is supplementing income by working for ride-sharing services like Uber, but according to Acosta, many employees work on a per-task basis by choice and report a high level of job satisfaction in doing so. This trend, he said, will be another point of focus for the Department of Labor as it works to adapt existing regulations to a new type of workforce.
The two-day conference, sponsored by the Center for Labor and Employment Law, included panels on the challenges of trade, automation, and immigration as well as keynotes by Victoria Lipnic, acting chair of the US Equal Employment Opportunity Commission, and Steven Greenhouse '82, former labor and workplace correspondent for the New York Times. Philip Miscimarra, chairman of the National Labor Relations Board, delivered the June 8 luncheon address.
Posted June 22, 2017