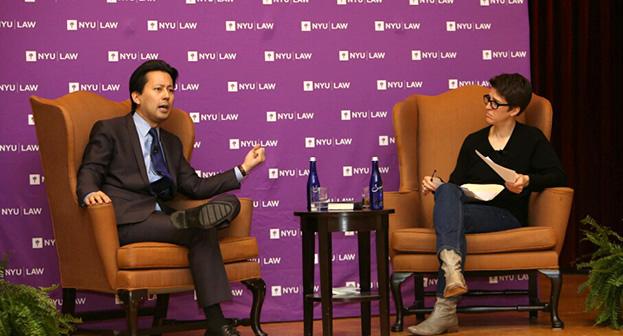 On Tuesday, April 28, the Supreme Court heard oral arguments in the same-sex marriage case Obergefell v. Hodges. Less than twenty-four hours after the hearing ended, Kenji Yoshino, Chief Justice Earl Warren Professor of Constitutional Law, and Rachel Maddow, host of the Emmy Award-winning Rachel Maddow Show on MSNBC, took the stage in Tishman Auditorium to discuss his just-released book Speak Now: Marriage Equality on Trial about the Hollingsworth v. Perry trial.
Punctuated with moments of levity, the spirited discussion connected the 2010 trial's points to the arguments presented to the high court this week, highlighting the more dramatic moments of Perry as well as dissecting the thornier questions raised on Tuesday.
In Speak Now, Yoshino argues that a civil trial like Perry can produce a more "rigorous, comprehensive, and thoughtful" conversation that gets at the facts than can other forums—such as debates in the media and legislative hearings. Speaking with Maddow, Yoshino suggested that even the Supreme Court is not insulated from unsubstantiated claims. On Tuesday, for example, Associate Justice Antonin Scalia disputed US Solicitor General Donald Verrilli's point that "all of the evidence so far shows you that there isn't a problem [with children growing up in same-sex households]." Scalia countered, "Well, I think some of the briefs contradicted that."
Yoshino underscored that amicus briefs do not need to stand up to adversarial testing. As an example, he noted that the American College of Pediatricians (ACP) had submitted a brief in Obergefell v. Hodges. Yoshino described the ACP as a niche organization, with 60 to 200 members, founded in 2002 "in explicit opposition to the American Academy of Pediatricians' view on same-sex marriage." It was "telling," he said, that the ACP never came up during the Perry trial. The claims in their amicus brief "would never pass muster in a trial, so that's part of the sickness in our judicial system." To keep misinformation out of court proceedings, Yoshino advocated for a "greater reliance" on trials and increasing awareness about the problems in fact-finding and amicus briefs.
"It's sobering but sort of warm encouragement to throw the junk out of the argument," Maddow said. "Our democracy works well when the people who lose the argument also lose the fight."
Watch Rachel Maddow and Kenji Yoshino discuss the law and same-sex marriage (59 min):
Posted April 30, 2015