Four NYU School of Law alumni were honored by the New York Law Journal (NYLJ) as "Lawyers Who Lead by Example," announced on July 7. Elkan Abramowitz '64 and David Boies LLM '67 received lifetime achievement recognition, while Robert Freeman '73 and Karen Freedman '80 were commended for their public service.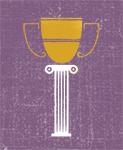 Abramowitz, partner at Morvillo Abramowitz Grand Iason & Anello, has been lauded for his success in high-profile white-collar criminal defense cases. He is a co-author of the NYLJ's "White Collar Crime" column. 
Boies's influence in cases such as Bush v. Gore (2000), United States v. Microsoft Corp. (2001), and A&M Records, Inc. v. Napster, Inc. (2001) landed him the titles of both "Lawyer of the Year" and runner-up to "Person of the Year" from Time magazine in 2000. Boies took the lead on yet another highly contested issue in 2014 as chief counsel for Sony Pictures Entertainment when he announced on NBC's Meet the Press that the film The Interview would be distributed to the public in spite of threats from North Korea.
Freeman has worked with the New York State Committee on Open Government since its inception in 1974 and has served as its executive director since 1976. In the time since, he's received accolades such as the John Peter Zenger Award from the New York News Publishers Association and has been inducted into the Open Government Hall of Fame.
A champion of children's rights reform, Freedman founded the specialty law firm Lawyers for Children in 1984. Freedman, an NYU School of Law trustee, was featured on NYU Law Magazine's 2014 cover.
All honored lawyers, 26 in total, will be featured in a special section of the NYLJ and celebrated at a dinner on September 20.
Posted July 22, 2016