Melissa Murray, who was a visiting professor at NYU Law last fall and was in residence this past spring, will join NYU Law as a tenured faculty member on July 1, Dean Trevor Morrison announced on June 11.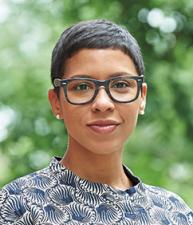 Murray comes to NYU Law from the University of California, Berkeley Law School, where she has been the Alexander F. and May T. Morrison Professor of Law. She was Berkeley's Interim Dean from March 2016 through June 2017.
"Melissa is a highly accomplished scholar and a beloved teacher," Morrison said. "She brings to NYU her deep dedication to students, a record of innovative scholarship, and warm collegiality."
Murray's scholarship focuses on the legal regulation of intimate life, including marriage and its alternatives, the regulation of sexuality, marriage equality, and the legal recognition of caregiving. Her work has earned a host of accolades, such as the 2012 Dukeminier Awards' Michael Cunningham Prize for the year's best article on sexual orientation and gender identity, the Center for Reproductive Rights Innovation in Scholarship Award, and the AALS Scholarly Papers Competition for faculty members with fewer than five years of teaching.
Murray earned her undergraduate degree from the University of Virginia, where she was a Jefferson Scholar and an Echols Scholar. She received her JD from Yale Law School, where she was notes development editor of the Yale Law Journal. Before pursuing a career in academia, Murray clerked for then-Judge Sonia Sotomayor of the US Court of Appeals for the Second Circuit and Judge Stefan Underhill of the US District Court for the District of Connecticut. 
In the upcoming academic year, Murray will teach Family Law and upper-level Constitutional Law, and will serve, with Professor Florencia Marotta-Wurgler, as co-faculty director of the Birnbaum Women's Leadership Network.  
Posted June 11, 2018