Jennifer Arlen '86, Norma Z. Paige Professor of Law, has been elected president of the American Law and Economics Association (ALEA). On May 11 she gave the keynote address at the association's annual meeting, held at Boston University School of Law.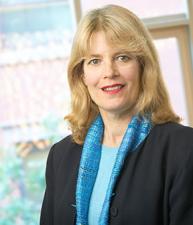 In addition to a JD, Arlen holds a PhD in economics from New York University. She is co-founder and director of the NYU Program on Corporate Compliance and Enforcement; co-founder, fellow, and past president of the Society of Empirical Legal Studies; and former chair of the Law and Economics, Remedies, and Torts sections of the Association of American Law Schools.
Arlen has been a leader in ALEA since its founding in 1991, when she was elected to the association's first board of directors. She also was a member of the board in 2006-09. Elected as secretary-treasurer of the association in 2016, she served a 2017-2018 term as vice-president.
Arlen is the third member of the NYU School of Law faculty to serve as ALEA president, joining a group that includes Lewis Kornhauser, Frank Henry Sommer Professor of Law, and Professor Daniel Rubinfeld. Beller Family Professor of Business Law Kevin Davis currently sits on the ALEA's board of directors.
Posted on May 14, 2018