The March 21, 2003 American bombing of Baghdad marked the beginning of a war as well as the start of Iraq's difficult journey toward democracy. Eleven years later, almost to the day, Chief Justice Medhat al-Mahmoud, the head of the Iraqi Supreme Judicial Council, visited NYU School of Law to discuss Iraq's path toward an independent judiciary.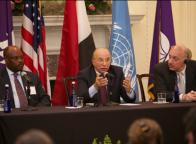 Establishing a democratic justice system has been no simple process. On the most basic level, the 2005 Iraqi Constitution is still fresh, meaning judges are still finding their interpretive tools. "Imagine a country where every case is a case of first impression," said Samuel Issacharoff, Bonnie and Richard Reiss Professor of Constitutional Law.
Yet the journey to democracy is not impossible.
"The distance of 1,000 miles starts with one step," al-Mahmoud said through a translator, "and we have taken more than one step in that direction."
Al-Mahmoud—as Issacharoff noted—has been "in the trenches" throughout this process. After the fall of Hussein, he served as a minister for the Ministry of Justice, vice president of the Court of Cassation, chairman of the Federal Court of Cassation, chairman of the Federal Supreme Court, and head of the Higher Judicial Council, which oversees Iraqi federal courts.
On March 25, his lecture, entitled, "Judicial Independence and Effectiveness in Iraq: Achievements and Challenges," recalled the pre-2003 judiciary system that required members to join the Ba'ath Party. Once the invasion had begun, Iraqi judges moved to establish a self-ruling judiciary, which the new constitution recognized in 2005.
To illustrate the judiciary's newfound independence, Al-Mahmoud shared the story of Mithal al-Alusi, a member of the Iraqi parliament, founder of the Democratic Party of the Iraqi Nation, and a controversial figure in Iraq. In 2008, al-Alusi had traveled to Israel, and as punishment, the legislative branch voted to strip him of his immunity and punish him under a Hussein-era law; the executive branch also barred him from traveling to Israel. But the court ruled independently of those decisions, stating that there was no Iraqi law prohibiting him from traveling freely.
Judicial independence, al-Mahmoud said, relies in part on the Federal Supreme Court's emphasis on democratic representation—that is, its members represent various Iraqi factions. "It's not possible for this court to please all the parties," al-Mahmoud said, "and that is not its purpose." The idea, he said, is that having so many loyalties represented keeps any one faction from taking control.
Hand-in-hand with this democratic approach have been other signs of improvement. In 2013, al-Mahmoud said, Iraq had 1,400 judges, three times as many as in 2003. These judges work in extreme conditions: Despite the thousands of guards appointed to protect them, eighty judges have been killed by terrorist attacks. "Iraqi determination to continue," al-Mahmoud said, "is what allows life to continue." In 2013, those same 1,400 judges decided nearly 1,700,000 cases.
Al-Mahmoud was joined by Adam Abdelmoula, country director in Iraq for the United Nations Development Programme. He described the measures, like the establishment of legal aid clinics, that will strengthen the judiciary in Iraq. Abdelmoula said, "Iraq's future depends on the institutionalization of the rule of law."
For the students of the NYU International Law Society (ILS), presenting this event was no small feat. In addition to having only a month to prepare, Amir Badat '15, ILS president, and Augustas Baliulis '16, ILS special events co-chair, had to first convince al-Mahmoud why he should speak at NYU School of Law versus another law school. They remembered the argument that swayed him—the "strong comparative and international law program," as Baliulis recalled, which includes the Center for Constitutional Transitions, where Badat is a researcher.
The event's success means plans are already in the works to bring Abdelmoula back in the fall to discuss careers in the United Nations. His own work has taken him not just to Iraq but other troubled areas—Syria and Kuwait—meaning students interested in global careers will have the opportunity to take their own first steps.
Posted March 28, 2014