Life Trustee, Director of Law and Business Experiential Courses, and Adjunct Professor Stephanie Abramson '69 passed away on May 3.
"Stephanie was a beloved member of our community, whose talent, integrity, and generosity deeply impacted NYU Law across many decades," Dean Trevor Morrison said in an internal statement. "Stephanie left an indelible mark on the NYU Law community, and she will be deeply missed."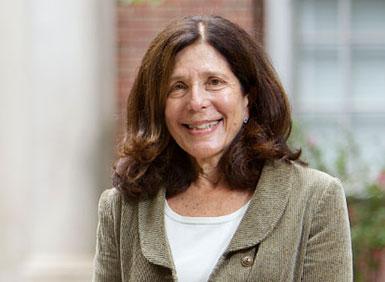 Abramson earned her JD, with honors, from the Law School in 1969, after earning her BA, with honors, from Harvard University's Radcliffe College. Abramson practiced corporate law in New York for more than 25 years, first at Cleary Gottlieb Steen & Hamilton, and then at Morgan, Lewis & Bockius, where she was a partner. She went on to serve as executive vice president, general counsel, and secretary of Young & Rubicam from 1995 to 2000; as chief legal officer and chief corporate development officer of Heidrick & Struggles International from 2001 to 2003; and as executive vice president and general counsel of DoubleClick from 2005 to 2008.
In 2010, Abramson brought her extensive background in corporate and transactional law back to NYU Law as the founder and director of the Business Law Transactions Clinic, providing legal services to nonprofit organizations and social enterprises that operate in areas of concern to the public but often lack access to the traditional legal market. She served as director and adjunct professor of the clinic until the time of her passing.
"Stephanie brought great innovation to the Law School's law and business curriculum, where her deep experience as a law firm partner and general counsel was matched by her insight into the interpersonal skills required to represent clients effectively," Morrison said. "Her high standards, warm mentorship, and wise counsel made a profound impression on her clinical students, clients, fellows, and colleagues."
Abramson set an extraordinary record of service to NYU and to the legal profession. From 2011 to 2013, Abramson was dean of executive education and graduate professional studies at New York University in Shanghai. She was a life trustee of the Board of Trustees of the NYU School of Law Foundation, serving on the Board since 2009.
As a member of NYU Law's Weinfeld Program, Abramson was a loyal and generous supporter of the Law School. She was awarded the NYU Law Alumni Achievement Award in 2014, and also served as a member of her class 50-year Reunion Committee.
Abramson served as a member of various committees of the New York City Bar Association and of the Harvard College Board of Overseers, and was a court-appointed member of the Blue Ribbon Commission to study Funding Legal Services for the Poor in 1998.
Posted May 6, 2019