Professor of Law Emeritus John "Jack" Slain '55 passed away peacefully at his home on Saturday, September 27.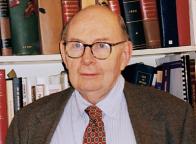 A pioneer educator, Slain played a foundational role in building the Law School's reputation as a leader in the field of law and business. He has taught Corporations, Accounting for Lawyers, and Securities Regulation, all of which were among the most popular classes at the Law School for many years. Throughout his career, he mentored scores of corporate lawyers, many of whom went on to become partners at major Wall Street firms.
In recognition of his enormous commitment to teaching, the Law Alumni Association presented Slain with the Legal Teaching Award in 2010. The letter announcing the honor described Slain as "one of the best and most popular teachers at NYU Law, beloved for the rigor and clarity with which he teaches his subject and the fairness and concern that he brings to his relations with his students."
After graduating from NYU School of Law, Slain worked as an associate at Cravath, Swaine & Moore and went on to serve as general counsel of a public company. Slain taught at the Indiana University School of Law and Ohio State University College of Law before joining the Law School in 1977. While Slain officially retired in 2002, he continued to teach until as recently as last fall, and he was scheduled to teach Corporations to LLM students this fall.
"His brilliance, dedication, and humility will continue to inspire us," wrote Dean Trevor Morrison in a letter to the Law School community, "and he will be deeply missed."
Posted September 29, 2014