The Bickel & Brewer Institute Latino Institute for Human Rights hosted a symposium on "The Latino Child and the Law" that addressed significant issues related to the wellbeing of and challenges faced by Latino children, including access to quality pre-K through 12th grade education, juvenile justice reform, and immigration reform. Nisha Agarwal, commissioner for the NYC Mayor's Office of Immigrant Affairs, delivered remarks describing the city's efforts to ensure that its immigrant communities have access to legal services.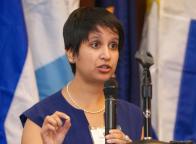 More than one-third of New Yorkers are foreign-born. These immigrants, plus their children, make up 60 percent of the city's population. Agarwal, who played a pivotal role in creating the new Immigrant Justice Corps, discussed a recent success—raising awareness of DACA, Deferred Action for Childhood Arrivals, a federal program that temporarily protects undocumented immigrants from deportation and provides work authorization and a Social Security card. Earlier this year, her office launched a citywide transit ad campaign in English, Spanish, and Chinese, using images of families and young workers to alert people that DACA is not just for students.
"It was the first time in the history of New York City that there has ever been any sort of mass-marketing effort focused on immigrants—which, if you think about the data that I shared before, is pretty stunning," she said. As a result of this outreach campaign, there was a 500 percent increase in queries about DACA enrollment.
This is one step on a long road. Her office is also collaborating with the New York Immigration Court, Department of Health, and Department of Education to connect the recent surge of 1,300 to 1,500 unaccompanied child migrants from Central America to legal, health, and education services. The next project will be devising how to connect schools and students to reliable legal services.
"The immigration legal system that keeps so many people out of status is also keeping them from safe, fair jobs, from accessing health benefits, from accessing higher education, from accessing all those tools that keep people out of poverty and lift them out of poverty," she said. "The access to justice fight is part of this larger mission of promoting inequality and advancing economic opportunity."
Posted November 25, 2014
Watch Agarwal's remarks (13 minutes):