At this year's Thomas M. Jorde Symposium, hosted by the NYU Law Brennan Center for Justice, honored lecturer Heather Gerken, J. Skelly Wright Professor of Law at Yale Law School, presented "Federalism 3.0." Gerken, who was recently announced as the new dean of Yale Law—the first woman to serve in this role—is a scholar of constitutional and election law and founder of the "nationalist school" of federalism. Gerken's school of federalism is based around the idea that federalism can ultimately serve nationalist ends, challenging the idea of two separate and opposed ideological camps. While nationalists traditionally believe in the sovereignty of the national government, and federalists believe in the autonomy of the states, Gerken argues that state autonomy is essential to establishing what national government should look like.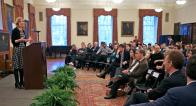 Using recent rulings on same-sex marriage and the legalization of marijuana in California as examples, she argued that local and state legislature are essential proving grounds for new federal laws. "The great advantage of decentralization [is that it] allows you to build change over time. It is really hard to jumpstart a national movement" she said. Gerken added that it is difficult to start a national conversation that has not been preceded by dialogues at the state and local levels, and acknowledged that most of the groundwork had already been laid at these levels when the US Supreme Court made a ruling on marriage equality.
Following Gerken's lecture, two constitutional law scholars delivered comments. Jessica Bulman-Pozen, professor of law at Columbia Law School, agreed that moving away from staunch ideas of state versus national sovereignty would create new opportunities for adherents to both federalist and national philosophies. She also commented on recent challenges to national power leveled at the executive branch, citing State of Washington and State of Minnesota v. Trump, which challenged the Trump administration's first executive order on immigration.
Ernest Young, Alston & Bird Professor of Law at Duke, delivered an opposing viewpoint. Young, described by Gerken as a federalism "stalwart," who joked that his ideas on conservatism could be condensed to "change is bad," rejected the idea that "Federalism 3.0" is an upgrade simply because it is newer. He argued that dispensing with the idea of autonomy, as Gerken suggested, would be a mistake, and pointed out that other federalism stalwarts would likely disagree with "Federalism 3.0," as its ideology does not come from the Constitution.