At its 40th annual awards program on December 5, the New York Housing Conference (NYHC) honored the Furman Center for Real Estate and Urban Policy and the Moelis Institute for Affordable Housing Policy with the Empire Award for Leadership in Affordable Housing. The NYHC advocates for "decent affordable housing for all New Yorkers."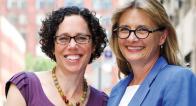 Vicki Been '83, Boxer Family Professor of Law and director of the center, and Ingrid Gould Ellen, Paulette Goddard Professor of Urban Policy and Planning at the Robert F. Wagner Graduate School of Public Service and the center's co-director, accepted the award on behalf of the center. Michael Schill, the Furman Center's founding director and now Dean of the University of Chicago School of Law, presented it.
The Furman Center provides critical research and promotes essential discussion about legal and public policy issues related to land use, real estate, and housing. In 2010, it celebrated its 15th anniversary and also launched the nonpartisan Moelis Institute, which is committed to improving affordable housing policies and programs.
Throughout its history, the Furman Center has concentrated much of its efforts in New York City. In anticipation of this fall's mayoral election, the center hosted the Big Ideas for the Big Apple forum earlier this year, inviting mayoral candidates, including Bill de Blasio, to discuss affordable housing in the city. This November, Been herself participated in Talking Transition, a series of events intended to encourage New Yorkers to stay engaged in policy discussions in the weeks leading up to de Blasio's January 1 inauguration.
In her acceptance speech, Been thanked Ronald Moelis '82 and Jay Furman '71, both members of the NYU Law Board of Trustees, for their support. She also drew attention to another benefit of the center. "[H]undreds of students have cultivated their skills and passion for housing while working as researchers at the Furman Center," she said. "Jay, we hope you are proud not only of the work that the Center bearing your name does, but also of the role that it has played in the careers of so many of the next generation of community development leaders."
Watch this video celebrating the Furman Center's work (5 min):
Posted on December 9, 2013