During a lunchtime talk on Friday, October 10, former President Emil Constantinescu of Romania canvassed his achievements and challenges while in office, focusing on relations between the United States and Romania. A short video was also shown which included appreciations of Constantinescu's term in office from US officials.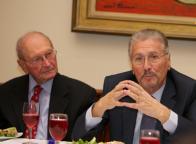 As the third president of Romania (1996-2000), Constantinescu oversaw economic, judicial, and administrative reforms. With President Bill Clinton, he launched the Romania-US Strategic Partnership, which has become a cornerstone of Romania's foreign policy. His work helped clear the path for Romania to eventually join NATO and the European Union. After stepping down, Constantinescu resumed his academic career and now teaches at the Bucharest University.
The event was hosted by Herbert Rubin '42 and moderated by José Alvarez, Herbert and Rose Rubin Professor of International Law. Retired General Constantin Degeratu, former head of the Romanian Armed Forces, also addressed the gathering.
Posted October 21, 2014