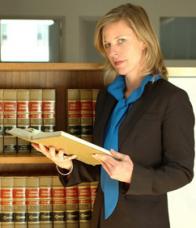 Deirdre von Dornum has been the assistant dean for public service since September 2013. Before leading NYU's Public Interest Law Center, she was deputy-in-charge at the Federal Defenders of New York, where her work included defending a Somali pirate in the first piracy case in a US court in more than a century and testifying before a US commission regarding the sentencing guidelines for child pornography offenders. After completing three federal clerkships, she began her career as a litigation associate at Wilmer, Cutler, Pickering, Hale & Dorr.
What made you decide to leave litigation and come to the Law School?
I very much want to support students in being able to do the kind of work that I've done, and be a positive force to create more public interest lawyers. That said, I still take cases and always will.
That's a great segue to your role as head of the Public Interest Law Center. What are your priorities for PILC?
My immediate priority is to forge stronger connections with government employers. This summer, every counselor in the office is making weekly visits to specific government employers to find out about their hiring, make sure we're connected to the alumni, and make targeted efforts in New York, DC, and California with government employers.
Any other priorities?
My other two priorities are to connect students more strongly with public interest alumni. And to be sure—the best that I can—that every student at NYU participates at some point in public interest work.
And is connecting them to the public interest alumni about careers and jobs?
That's a good way to get a job. But also, by interacting with alumni, students can talk to people doing things they might not even have been aware of, and get input and ideas. Most students come in thinking they know what they want to do and then that changes dramatically, which certainly happened to me in law school since I thought I would be a First Amendment lawyer.
Why is it so important that every law student participate in public interest work?
To get the feeling early on of directly helping people in need so that this can be carried into every legal career.
What about top priorities for R00t-Tilden-Kern, whose first class, 1954, celebrated its 60th reunion in April?
The top priorities for RTK are similar to my priorities for the Public Interest Law Center as a whole: making sure that every form of public service is viewed equally, that there is no privileging of one kind of public service over any other, and connecting the Roots more strongly with the public interest community.
We're developing an alumni-fellowship program where alumni mentors come in and meet with students regularly. So that people are not just coming for lectures but also counseling students, having lunch with them, or being more regular presences. We started with Lauren Burke '09 this year.
Lauren is a public interest standout. (Read about Burke, a former Skadden Fellow, in the 2013 NYU Law Magazine.)
But she would say, and wouldn't mind my saying, that nobody thought that when she came in. She had no scholarship; she got lots of B's. She became a public interest star through her passion and going her own path. She didn't do a journal—she didn't do any of that. She did externships and cared about what she did and forged her own way.
That's so encouraging.
Yes, she likes to hand out her transcript.
She does?
Yes, because students will say, "I can't apply for a Skadden, I would never get it." And she says, "I had lots of B's. Now I have my own not-for-profit, a TEDx Talk, and more."
With such a strong public interest program at NYU, are there any challenges?
I attended a recent Admitted Students Day and a prospective student asked how he could possibly be a standout from so many other amazing public interest students and would he get attention and resources if he wasn't.
The idea that you have to be a standout to get support is something I would fight against. Each of the students is a standout based on what she cares about. But it's a good thing for me to keep in mind that the resources really do need to be spread equally and that everybody has the capacity to be a standout.
So, on an entirely different note: I have heard Julianna Margulies trailed you for several days to research, among other roles, the one she plays on The Good Wife. What does she do on the show that she picked up from you?
On the show she always touches her client on the shoulder in front of the jury or the judge. She picked up from me to always show through your manners or your gestures that you really care about your client.
You have a three-year-old son and another son just born in December. How do you maintain a legal career as a parent? How do you advise young lawyers about family and work?
I try to be fully engaged with my children while I am at home, and fully engaged with my work while I am at the office (and after they go to bed!)—but it's a juggle, for sure, and one that has required me to learn to be more flexible. I am extremely fortunate to have been supported from the top both here at NYU and at Federal Defenders in my quest to be both a terrific parent and a passionate advocate and administrator. The choice always comes down to less sleep, but that's a choice I'm prepared to live with.
I tell young lawyers to look for environments where people at the top are parents and to never be afraid to demand adequate time for parenting: if your work is excellent, not only will your employer want to accommodate you, but you will also change the workplace for the better for everyone else.
Posted July 16, 2014