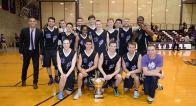 On March 26, the NYU School of Law Violets defeated the Columbia Law School Lions in the 14th annual Deans' Cup at Jerome S. Coles Sports Center.
Coming off last year's loss, when the Lions broke the Violets five-win streak, the Violets felt the heat to bring the cup home—and the efforts of the team, coached by Daniel Bromwich '12, Jerry Goldsmith '15, and Milad Sedeh '12, paid off.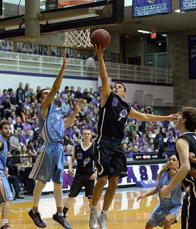 By the end of the night, the scoreboard read 85-80, and the Violets, led by Captain Edward Rooker '15, walked away from the court victorious. The NYU Law faculty and administrator team, which played Columbia Law during halftime, also prevailed, with a score of 13-11.
This year's Deans' Cup raised $22,000 from law firm donations to support public interest programs at both law schools, thanks in part to efforts from co-chairs Teghan Binnings '15 and Stephanie Spies '16.
Those hoping to reminisce over great plays and stellar layups can watch the game here and visit the Facebook gallery.
Posted April 14, 2015