The newly-published Classics in Comparative Law, which traces major developments in the field and delves into private and public law, legal institutions, and methodological debates, features contributions from four NYU Law faculty members: Oscar Chase, Russell D. Niles Professor of Law; John Ferejohn, Samuel Tilden Professor of Law; University Professor Richard Stewart; and University Professor Joseph Weiler.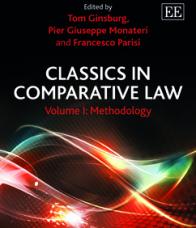 The four-volume set includes Chase's "American 'Exceptionalism' and Comparative Procedure" (2002), Ferejohn's "The Politics of Imperfection: The Amendment of Constitutions" (1997), Stewart's "Crisis in Tort Law? The Institutional Perspective" (1987), and Weiler's "The Transformation of Europe" (1991).
"The book's inclusion of so many pieces by NYU Law faculty members is a reflection of our deep strength in comparative law, and of the path breaking work our faculty have done over the years," said Dean Trevor Morrison.
Published by Edward Elgar Publishing, the volumes were edited by Professors Tom Ginsburg of the University of Chicago Law School, Pier Monateri of the University of Turin, and Francesco Parisi of the University of Minnesota Law School.
Posted August 26, 2014