On Tuesday, November 19, the Brennan Legacy Awards Dinner was held, honoring the work of Bryan Stevenson, Professor of Clinical Law at NYU School of Law; Sherilyn McCoy, Chief Executive Officer of Avon Products, Inc.; and Bill Moyers, a journalist and winner of the National Academy of Television Arts & Sciences' 2006 Lifetime Achievement Award.
The event benefited the Brennan Center for Justice, a nonpartisan law and policy institute at NYU Law. Among a range of issues, the center supports racial justice, voting rights, campaign finance reform, and Constitutional rights. The center is named for Justice William Brennan Jr. whose tenure on the US Supreme Court lasted from 1956 to 1990. Known for his outspoken liberal opinions, he espoused civil rights and free speech and opposed the death penalty. He left a profoundly influential legacy.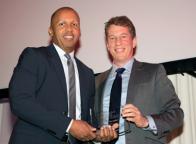 Trevor Morrison, dean of the Law School and a member of the center's Board of Directors, presented the Brennan Legacy Award to Stevenson, founder of the Equal Justice Initiative (EJI), a nonprofit law organization based in Montgomery, Alabama. EJI provides legal representation to impoverished clients, including those wrongly convicted. Stevenson has been their executive director since 1989, and over the past 24 years, Morrison noted, EJI has successfully reversed or reduced sentences in more than 65 death penalty cases—a significant accomplishment. Morrison also praised Stevenson's skills as a teacher. At NYU Law, he leads the Equal Justice and Defender Clinic, in which students work on racial justice issues. Morrison described the experience as "nothing short of life-changing" for students.
"Justice Brennan left a record of deep care for and attention to the struggle for racial justice and human dignity," Morrison said. "Today, Bryan Stevenson leads us all in that effort."
Posted on November 22, 2013