On January 31, the NYU Journal of Law & Business held its 2014 symposium, "Developments in Domestic and International Financial Regulation." Among panel discussions on Dodd-Frank derivatives regulation and the effects of regulation on the financial services industry was a candid and thoughtful keynote in the form of a fireside chat between James "Jes" Staley, managing partner of BlueMountain Capital, and Kenneth Raisler '76, a partner at Sullivan & Cromwell and member of the Law School's board of trustees.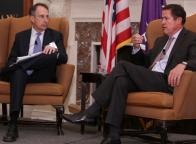 In his introduction of Staley, Raisler pointed out that the former's banking career would stack up well against anyone's in the country. Before joining BlueMountain in 2013, Staley spent 34 years at JPMorgan Chase and its predecessors, running the bank's equity capital markets group, its private bank, its asset management business, and, lastly, its investment banking division.
Raisler opened up the chat by asking Staley what he thought were the primary causes of the financial crisis. Before replying, Staley made a refreshing admission on behalf of his industry: "Before I answer that, let me say that the financial community has a lot to atone for given the financial crisis and the damage it left in its wake."
Staley then offered up three specific and detailed causes that have rarely found their way to the top of more popular lists of culprits. The most important, he said, were a handful of collective mistakes of bankers, academics, regulators, and investors. The first of that sort: widespread agreement that any securities rated AAA were effectively risk-free, with the ultimately disastrous result that banks were not required to backstop those securities with any capital whatsoever on their balance sheets.
Another collective delusion, Staley added, was that any country in the newly formed Eurozone posed the same credit risk as any other. "The markets enabled Greece to borrow for 10 years at the same credit spreads as Germany," he said. "In hindsight, that seems obviously wrong, but the best and brightest let it continue for years." The result of both: unsustainable leverage on bank balance sheets that eventually collapsed under the weight of unforeseen risks.
The second cause, Staley posited, was the fact that regulatory oversight had failed to keep up with the evolution of the financial markets. For instance, he pointed out, whereas the Federal Deposit Insurance Corporation had the ability to step in and take over teetering commercial banks, it lacked that same ability to step into either insurance companies or investment banks, despite the overlap in their activities, particularly in the housing markets.
And the third, said Staley, was the conduct of Wall Street itself, the most negative aspects of which were the result of perverted incentives and compensation structures.
In the ensuing discussion, Staley defended modern financial techniques and the size of financial players such as JPMorgan Chase. He also challenged those in the audience to consider the evolution of automobile technology over the last 30 years. "When I was 20," he said, "I could open up the hood of my car, change the spark plugs, check the coolant, get a handle on the fuel compression.… But I challenge anyone to open the hood of a car today and have any clue what's going on in there. Cars today don't pollute nearly as much and their fuel efficiency is vastly superior, but we no longer have any idea how they work. That's the price of complexity.… JPMorgan Chase is not large just because it wants to be. It is large because its clients want it to be large."
Watch the fireside chat between James "Jes" Staley and Kenneth Raisler '76 (1 hr, 4 min):
Watch the opening remarks and the first panel, "Updates on Dodd-Frank Derivatives Regulation" (1hr, 54 min):
The second panel, "Harmony and Conflict in International Financial Regulation" (1 hr, 26 min):
The third panel, "Impact of Domestic and International Financial Regulation on the Financial Services Industry":
Posted on February 7, 2014