The Research Handbook on the Economics of Torts, edited by Jennifer Arlen '86, Norma Z. Paige Professor of Law, was released this month.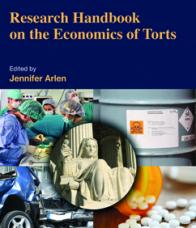 The handbook features 31 contributors, including Arlen, among them five additional NYU School of Law faculty members: Richard Epstein, Laurence A. Tisch Professor of Law; Mark Geistfeld, Sheila Lubetsky Birnbaum Professor of Civil Litigation; Lewis Kornhauser, Frank Henry Sommer Professor of Law; Geoff Miller, Stuyvesant P. Comfort Professor of Law; and Catherine Sharkey, Crystal Eastman Professor of Law.
John Goldberg '91, Eli Goldston Professor of Law at Harvard Law School and co-author of Tort Law: Responsibilities and Redress (3rd ed. 2012), praised this new collection of essays, calling it "indispensable": "Professor Arlen has assembled an academic all-star team, and its members have prepared up-to-date, high quality, and accessible treatments of centrally important topics ranging from causation and damages to vicarious liability and insurance to tort reform and tort alternatives. With respect to the analysis of tort law through the lenses of empirical and microeconomic analysis, this is now the go-to volume."
Besides editing the handbook, Arlen wrote the introduction and contributed the essay, "Economic Analysis of Medical Malpractice Liability and its Reform."
Posted on January 8, 2014