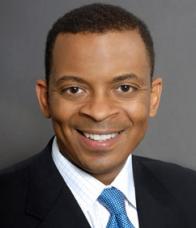 On June 27, the U.S. Senate confirmed Anthony Foxx '96 as secretary of transportation in an unusual 100-0 vote. Foxx, who was the youngest mayor of Charlotte, North Carolina, will now at 42 be the youngest member of President Obama's cabinet.
When Obama nominated Foxx to the cabinet position in January, he noted Foxx's success as mayor in turning around Charlotte's economy in the wake of the 2008 financial crisis. While mayor, Foxx headed a new streetcar project involving modern electric tram service, expanded the international airport, and extended the city's light rail system.
"The economy is growing. There are more jobs, more opportunity," said Obama during his announcement of Foxx's nomination. "And if you ask Anthony how that happened, he'll tell you that one of the reasons is that Charlotte made one of the largest investments in transportation in the city's history."
Prior to his role as Charlotte's mayor, Foxx worked in every branch of the federal government: He served as a law clerk for Judge Nathaniel Jones of the U.S. Court of Appeals for the Sixth Circuit, a trial attorney for the Civil Rights Division of the Justice Department during the Clinton administration, and a staff counsel to the House Judiciary Committee.
Now a rising star in the Democratic Party, Foxx last year secured Charlotte as the site of the 2012 Democratic Convention and also served as one of the speakers. In addition to his speaking engagement in the national spotlight, Foxx also spoke at NYU Law's 2012 J.D. convocation.
Foxx is the third member of his NYU Law graduating class to join the Obama administration in recent months: Christopher Meade '96 was confirmed as general counsel of the United States Department of the Treasury, while Jenny Yang '96 was confirmed as a member of the Equal Employment Opportunity Commission. When Foxx is sworn in, he will also be joining fellow NYU alumnus and Acting Secretary of Labor Seth Harris '90 in Obama's cabinet, though he will just miss meetings with Miriam Sapiro '86, who will be replaced as acting U.S. trade representative by the newly-confirmed Michael Froman.
Posted on July 1, 2013