C. Boyden Gray, founding partner of Boyden Gray & Associates, delivered a keynote for the "American Gas Exports: Regulation, Finance, & International Trade" symposium on February 16.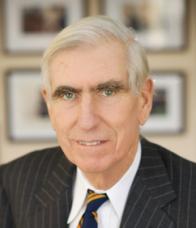 The symposium invited experts from the federal government, private firms, and academia to delve into the logistics of bringing American gas to market, clarify the international trade issues posed by America's international trade agreements, and discuss the limits of what the government should approve in the public interest.
Gray is the former US Ambassador to the European Union (2006-2007) and former Special Envoy for Eurasian Energy Diplomacy (2008-09). He also served as White House counsel to President George H.W. Bush from 1989 through 1993. In this role, he became a key architect of the 1990 Clean Air Act Amendments, including the development of a cap-and-trade system for acid rain emissions. He was also involved in creating the Energy Policy Act of 1992.
During his keynote, he reviewed the day's earlier conversations, which involved the proposed Trans-Pacific Partnership and the Transatlantic Trade and Investment Partnership, and the possibilities for natural gas as a transportation fuel, which he argued offers promising opportunities.
He also discussed Russia's Gazprom, which has been accused of inflating prices and unfairly restricting gas distribution in Europe.
"Russia burns off nearly a third of the gas it would otherwise supply to Europe," he said. "It is a scandal. We don't read much about it, but it's extraordinary."
Gray noted that breaking up the monopoly might actually be better for Gazprom and President Vladimir Putin, suggesting that "monopolies aren't necessarily good for making money." Breaking up Standard Oil, he pointed out, quadrupled John D. Rockefeller's net worth.
Although the European Union's antimonopoly case against Gazprom seemed to be stalled, the Wall Street Journal reported the next day that the EU antitrust chief was preparing to move against what Gray called a "monopolist supreme."
This symposium was sponsored by the NYU Environmental Law Journal and the Environmental Law Society in conjunction with the Frank J. Guarini Center on Environmental, Energy, and Land Use Law.
Posted February 27, 2015