The versatility of an NYU Law degree was on display recently in Greenberg Lounge, where nearly two dozen alumni gathered to talk about their current work as entertainment industry executives, consultants, tech entrepreneurs, journalists, and in other vocations not typical for JD graduates. Joining them were close to 90 fellow Law School alums and current students who were interested in learning about non-traditional career paths. The occasion was an Alternate Careers Forum (ACF), jointly sponsored by the Office of Career Services (OCS), the Public Interest Law Center, and the Office of Development and Alumni Relations.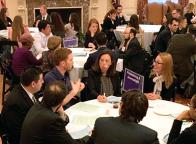 This was the third ACF held at the Law School in the last 15 years, notes Associate Dean Irene Dorzback, who heads OCS, but the purpose has evolved. The first two, she says, were in response to downturns in hiring by major law firms at schools across the country. Those firms are now hiring at a healthy clip, but opportunities for law graduates have also increased in other sectors, such as consulting, regulatory compliance, alternative energy, and social entrepreneurship.
The number of NYU Law alums pursuing those opportunities has increased sharply, Dorzback says, including those doing so within five years of graduating. "I used to have to comb through LinkedIn or count on someone making contact with me personally in order to maintain a database of our graduates with alternative careers. Now I am hearing about grads doing this with much greater frequency."
Jessica Kramer '05 is one. After three years at a large New York law firm, she moved into a hybrid legal and business role at Newport Hotel Group, a real estate investment and management company, primarily focused on the hospitality industry. She now works at a hospitality-technology startup called ALICE, where she runs enterprise sales and business development. Although no longer practicing law, Kramer says she uses her legal skills on a regular basis—generally in writing and negotiating and specifically to understand key issues affecting her business, such as European data-privacy laws.
Kramer came to the ACF as a "facilitator" to offer guidance to others. "I suggested they turn being a generalist into a strength and that they do a ton of informational interviews to create connections and learn what people in the specific industry or area they'd like to move into would recommend," Kramer says. "Understanding the culture and language of a company and developing relationships with people who work there is more helpful for job search than any skillset."
Dorzback notes that two facilitators at this year's ACF attended the last one four years ago when they were still in traditional law jobs. "Now that they have made the move, they are fervent in their desire to help others," Dorzback says. "It's great to watch it all unfold."
Posted May 22, 2017