The latest installment of the NYU Leadership Series in Law and Business on November 4 featured a conversation between Xu Jin MCJ '96, CEO and general manager of Guotai Asset Management Co. in China, and NYU Law Trustee Barbara Becker '88, partner and co-chair of the Mergers and Acquisitions Practice Group at Gibson, Dunn & Crutcher. Hosted by NYU Law's Mitchell Jacobson Leadership Program in Law and Business, the NYU Pollack Center for Law & Business, and the Comfort Innovation Fund for Business and Law, the discussion was focused on leadership and the experience of being a female leader.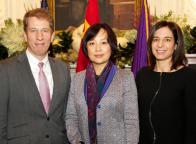 Jin, who joined the China Securities Regulatory Commission upon graduating from Peking University Law School, distinguished herself as an outstanding employee, leading her employer to send her to NYU Law to earn her MCJ. "The experience I had at NYU Law, and the life experience in the States for a year, tremendously changed me," said Jin, mentioning the value of learning US law. "Living with students from all over the world gave me different cultural influences, and made me more tolerant to difference," she added.
After returning to China, Jin went back to her former job, helping to draft the country's fund law before joining several fund management companies. In 2001 she landed at China Asset Management Company, one of the first nationwide fund management firms, as deputy CEO.
While being second in command was comfortable, she said, after a couple of years she wanted to make a bigger contribution. "I understood more about the employees, discovered their potential, and wanted to promote it. Also, I had a vision of the industry and how I wanted to develop the company. I realized that being number two, I couldn't make it happen. I tried very hard to convince the CEO about my ideas. Once I got a not-very-positive response, I realized that maybe it was time for me to move on." So she did, and at age 36 she became the CEO of Guotai, where she oversees $300 million in assets and 300 employees.
Citing as a role model Chun Wei, a fellow US-trained female lawyer who is the managing partner in Sullivan & Cromwell's Hong Kong office, Jin observed that, in her own recruiting, female candidates typically outperform male ones in communication skills. Guotai has a higher proportion of female employees—close to 40 percent—than its competitors, whose workforces are usually less than one-third female, Jin said.
"It is quite remarkable," said Becker, "having been a lawyer, going to a regulator, and then transitioning to business." She asked Jin what else was left to accomplish. Jin reflected that her future possibilities include becoming chair of the board, teaching, and continuing her involvement with Guotai's charity program, which benefits 10,000 students in 10 provinces. "For now," said Jin, "I want to make sure I'm a very good CEO and that I satisfy my shareholders, board, and clients."
Posted November 17, 2014