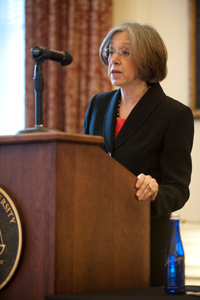 Judge Diane Wood of the United States Court of Appeals for the Seventh Circuit delivered the 2011-2012 Brennan Center Jorde Symposium Lecture at NYU Law on April 16. Her lecture was titled: "When to Hold, When to Fold, and When to Reshuffle: The Art of Decision Making on a Multi-Member Court."
 
The Thomas M. Jorde Symposium is an annual event created in 1976 to feature top scholarly discourse on issues that were central to the legacy of Supreme Court Justice William J. Brennan, Jr. It is named in honor of its major benefactor, a former Brennan clerk and professor at the University of California at Berkeley, Boalt Hall. A unique feature of the symposium is that, each year, the lecturer presents the same lecture, once in the fall and again in the spring, at two different sites – the first typically at Boalt Hall, the second at a different school. Two commentators at each site also offer remarks on the lecture. In this instance, the commentators were Judge Harry Edwards of the U.S. Court of Appeals for the District of Columbia Circuit (and a member of the NYU Law faculty) and Jacob D. Fuchsberg Professor of Law Barry Friedman.
 
In her lecture, Wood discussed the factors a judge must consider before writing a separate opinion, whether it is a concurrence or a dissent. Kelly Williams '88, Corporate General Counsel at the Brennan Center reported on the lecture when Wood delivered it in the fall.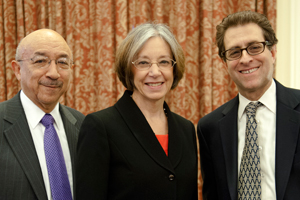 In his comments, Friedman noted that Brennan famously told his clerks that the first thing he wanted them to learn was to count to five – the number needed for a majority on the Supreme Court. But Friedman spoke about what he called "pivotal concurrences," and the purposes they could serve. Edwards noted that he, like most judges, wrote relatively few separate opinions. But, he added with some bemusement, that already low number dropped even further when he became chief judge of the D.C. Circuit, a position he held from 1994 to 2001. It is often a goal of chief judges to achieve consensus. (Edwards took senior status in 2005.)
Posted on April 19, 2012