On April 19, the first day of the inaugural Oxford Graduate Conference in Political Theory at the University of Oxford, University Professor Jeremy Waldron delivered a keynote address, "Unbinding the Executive: The Challenge to Liberal Legalism." The conference's theme was "Political Theory and the 'Liberal' Tradition." Waldron has delivered many of the most important named lectures in the field of philosophy.
Waldron is also keeping publishers busy with the trio of books he is releasing this season.
In The Harm in Hate Speech, scheduled for May and delivered by Waldron in its original form as the 2009 Oliver Wendell Holmes Lectures, he argues that the U.S., the only liberal democratic state without laws or codes against hate speech, should regulate such expression. Asserting that free-speech advocates defending racist talk on First Amendment grounds are misguided, Waldron articulates how hate speech seriously threatens society's basic assurance of human dignity and inclusion for all.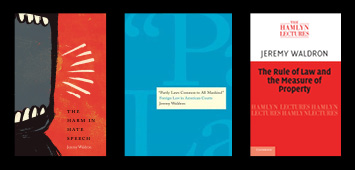 Based on Waldron's 2007 Storrs Lectures, "Partly Laws Common to All Mankind": Foreign Law in American Courts, also due out in May, considers whether U.S. judges should be permitted to cite foreign law in their rulings. Waldron contends that a society is governed by laws common to all humanity as well as by its own laws, and includes the argument that this common law is an international consensus rather than natural law.
Slated for June publication, The Rule of Law and the Measure of Property, which originated as Waldron's 2011 Hamlyn Lectures, asks which side the rule of law should favor when property rights and environmental legislation conflict. Utilizing both a historical perspective of the rule of law that employs John Locke's property theory and a modern perspective through the lens of legal controversies, Waldron refutes the assertion that failing to protect property rights against legislative restriction also reflects a lack of support for the rule of law. In fact, he says, a rule-of-law viewpoint supports the use of legislation for valid social objectives.
Posted on April 27, 2012