Vincenzo Varano, a professor and dean emeritus at the University of Florence Faculty of Law and a frequent Global Visiting Professor at NYU Law, has been elected to the American Law Institute (ALI), a leading independent organization dedicated to producing scholarship that clarifies and modernizes the law. The ALI has more than 4,400 top attorneys, judges, and law professors in its ranks who are "intellectual leaders in every area of law." Varano is among a mere four percent of foreign ALI members who are based in 24 countries outside the US. With this election, he joins 28 of NYU Law's full-time faculty and more than 100 Law School alumni who are ALI members. Dean Emeritus Richard Revesz will become the ALI's new director in May.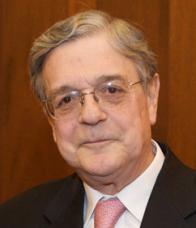 Varano, a highly respected European comparative lawyer, has visited NYU Law six times: in Fall 1994, Fall 1998, Spring 2004, Spring 2009, Spring 2011, and Spring 2013. He has taught Comparative Law and Comparative Civil Procedure to NYU Law students. 
A titular member of the International Academy of Comparative Law, Varano focuses his research and writing on comparative methodology, comparative legal systems, and comparative civil procedure. Among his recent major publications are Civil Litigation in Comparative Context (2007), co-authored with, among others, Oscar Chase, Russell D. Niles Professor of Law; a successful comparative legal systems textbook, La tradizione giuridica occidentale [The Western Legal Tradition], also co-authored (fourth edition, 2010); L'altra giustizia. I metodi alternativi di soluzione delle controversie in diritto comparator [The Other Justice: Alternative Methods of Dispute Resolution in Comparative Law] (2007), which he edited; and The Reforms of Civil Procedure in Comparative Perspective (2005), which he co-edited.
Posted on January 30, 2014