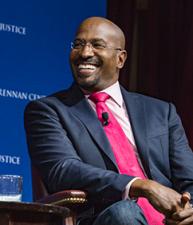 US mass incarceration was created by Republicans and Democrats, said political commentator and activist Van Jones in dialogue with Ford Foundation President and CEO Darren Walker at an event sponsored by the Brennan Center for Justice. And it will take both parties to end it, he said.
During the April 17 event, Jones and Walker discussed Jones's desire to cross party lines to create new criminal justice policy. The discussion followed the release of Jones's book, The Messy Truth: How We Came Apart, How We Come Together, which examines what he sees as moral hypocrisy on both sides of the political divide and urges bipartisan policy reform. 
"6.1 million Americans cannot vote because they have been disenfranchised [by a felony charge]" Walker said, adding that this disenfranchisement disproportionately impacts communities of color. The criminalization of black and brown Americans has its roots in white supremacy, Walker said: "There is a hierarchy that categorizes some behaviors as criminal and some as challenging." Offenses that are considered more criminal or result in prison time are more likely to target black and brown communities, Walker said. Jones said that appearing "tough on crime," has been a policy cornerstone for the left and the right, but that it has become a euphemism for serving harsher penalties to minority communities.
Jones said he sees some reasons to feel hopeful about a bipartisan push for reform, noting that in his CNN show Crossfire, his cohost Newt Gingrich, a conservative libertarian, has discussed the heavy fiscal burden of the prison system. In 2016, with the help of Cut50, an advocacy group within Dream Corps, an organization Jones co-founded, eight hundred people met for an eight-hour bipartisan criminal justice summit, including several Republican governors, former US Attorney General Eric Holder, and lawmakers from across the political spectrum.
"Both parties, for the first time ever, in 2016, at their conventions, had criminal justice reform planks," Jones said. But Jones said that the Trump presidency has reduced the chance of bipartisan reform, increasing the country's political polarization and making it more difficult to find common ground.
Jones said that effecting real change in criminal justice policy will require the country's best minds, regardless of political affiliation. "The truth is messy," Jones said. "We need to be as sophisticated as the system we are trying to change."
 
Watch the entire video of the discussion: 
Posted June 25, 2018