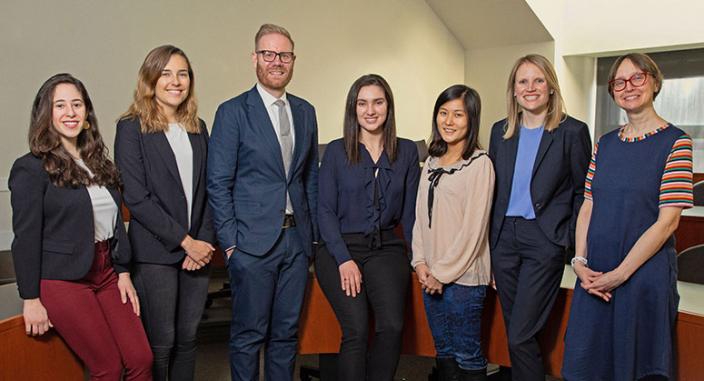 As a United Nations delegate last fall, Breanna Small '19 prepared talking points for Aubrey Webson, Antigua and Barbuda's ambassador to the UN, to use in bilateral meetings. Adalene Minelli LLM '19 attended negotiations for resolutions on climate change and UN habitat. Katerina Wright '19 went to numerous meetings of the General Assembly's First Committee (disarmament, global challenges, and threats to peace), Second Committee (economic and financial issues), and Sixth Committee (legal questions).
For many students attracted to the field of international law, working at the UN represents a compelling career goal. But even if one prevails in the stiff competition for UN jobs, it can be daunting to navigate a complex organization with 193 member states, six official languages, five principal organs, more than 44,000 staff, and a $5.4 billion annual budget.
NYU Law's United Nations Diplomacy Clinic, launched last fall, gives students the opportunity both to work at the UN and to benefit from expert guidance in the organization's bureaucratic and diplomatic intricacies. The clinic places 10 students—this year, seven JDs and three LLMs—in the UN permanent missions of a handful of small island and low-lying coastal states whose development challenges and diplomatic priorities are tied to the adverse effects of climate change. Students are classified as UN delegates to give them broad access to meetings and events.
Leading the clinic are Adjunct Professor Bryce Rudyk LLM '08, who is international environmental law program director of the Law School's Frank J. Guarini Center on Environmental, Energy, and Land Use Law, and Sarah Herring Sorin Professor of Law Katrina Wyman, director of the Environmental and Energy Law LLM program. Rudyk has been a legal adviser to the Alliance of Small Island States for the past six years; in that role, he spent four months abroad during the negotiation of the Paris Agreement, part of the United Nations Framework Convention on Climate Change. Wyman brings her own environmental expertise; most recently, her work has included research on fisheries and oceans issues. 
The clinic includes a weekly seminar, which provides, Wyman says, "an opportunity to get [students] to reflect and put their experiences with the missions in some kind of context. What is the role of the small islands at the UN? Where do they fit into the power structures?"
The seminar includes topics such as negotiating international treaties, writing in the UN style, UN procedures, navigating the UN bureaucracy, multilateral negotiation theory and skills, and power dynamics in international negotiations. Guest speakers have included Sue Biniaz, former deputy legal advisor and lead climate legal advisor for the US Department of State; David Malone, rector of United Nations University; Christina McElwaine, chief operations officer of United Nations University's Centre for Policy Research; and Robert Van Lierop '67, Vanuatu's first ambassador to the UN and the inaugural chair of the Alliance of Small Island States. 
"One thing that has really blown my mind in the seminar is the quality of speakers that we've had—not only the quality, but the way that the speakers are so multidimensional and reflect how many stakeholders are involved in the UN system," says Wright, who was placed in the Micronesia mission during the clinic. During her 1L summer, she had worked at the UN International Law Commission (ILC) in Geneva on an International Law and Human Rights Fellowship, co-sponsored by the Center for Human Rights and Global Justice and the Institute for International Law and Justice. While her time at the ILC offered valuable training in legal research and writing, Wright found the clinic compelling for different reasons.
"I wanted a broader experience from the permanent mission side," she says, "and I think that it also gives a really unique opportunity to put on your advocate hat. You are serving in an adviser role, which is different from a more academic, research-oriented international law experience." She took notes while attending meetings of the General Assembly's committees and did follow-up research for the mission as well as drafting memos and briefs for mission staff. During the annual "high-level week" (formally known as the "general debate") in September, Wright had a front-row seat—literally—as President Trump addressed the General Assembly. 
Wright spent considerable time attending early negotiations for BBNJ, an acronym for a new international treaty concerning marine biological diversity of waters beyond national jurisdiction. "We got to see how a number of different states made comments on all these different issues under the treaty," she says.
Small, who worked at the Antigua and Barbuda mission, says her favorite assignment, on which she collaborated with fellow clinic student Melina De Bona '19, was drafting a technical assistance request to another government for help executing a project related to sustainable energy. Small had studied the UN in the context of her public international law classes, but adds, "it's obviously not the same as being there and seeing it every day." 
Like Wright, Minelli brought prior UN experience to the clinic, having worked as a consultant for the United Nations Environment Programme's Division of Environmental Law and Conventions. She enrolled in NYU Law's Environmental and Energy Law LLM program because of its array of international environmental law offerings, and the clinic appealed to her as a prime hands-on opportunity. At the Belize mission, Minelli covered negotiations of BBNJ and other matters. The negotiations in the General Assembly's Second Committee, which deals with economic and development issues, particularly fascinated her: "Being able to observe these strategies and negotiating tactics has been not only eye-opening but an incredible learning experience."
Rudyk and Wyman envisioned the clinic as a symbiotic arrangement between missions and students. "We're not only trying to give students a unique experience to work inside the UN and inside international relations but also to help the missions in the work that they do," Rudyk explains. At weekly check-in sessions with their professors, students can ask granular questions about legal points and UN protocol that arise in their mission responsibilities. Rudyk makes himself readily available to students through WhatsApp, a messaging app that also allows the students to help one another and keep in touch with their missions in the fast-paced UN world—for example, figuring out whether a fellow clinic member is attending a meeting and can share notes later, or receiving instructions from their ambassador.
Such crowd-sourcing is crucial when students are working for missions with relatively few staff members—"We [were] expected to be in 10 places at once sometimes," says Minelli—but the silver lining is more opportunity to do meaningful work.
"We actually just embedded them into our staff," Janine Felson, Belize's deputy permanent representative to the UN, says of the NYU Law students who worked with her mission. "They served as de facto advisers for the mission…. Having these two extra persons in the meeting rooms really helped us, sharpened our focus in areas to get a better understanding of some of the issues that were playing out inside of the informal negotiating rooms." 
"We were able to get them to really help us step up our participation and to provide a level of technical information…that we could offer our capital and offer the representation at the meetings," says Webson, Antigua and Barbuda's UN ambassador. He adds, "All I can say is I hope we could be part of [the clinic] again."
The semester culminates with a 10-page legal memo from each student on a topic of direct relevance to their assigned mission. Several students also have continued to work on mission projects since the clinic ended.
After graduation, Wright says, she will work at a law firm in a slightly different area of international law—cross-border litigation and arbitration—but she says the in-depth UN experience she gained in the clinic will continue to be useful: "We've gotten a really good multidimensional picture of who's involved at the UN, how we could be involved in the future, what our careers could look like."
Posted February 14, 2019