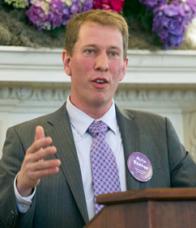 On June 1, Trevor Morrison stepped into his new role as dean of NYU Law. Even before starting officially, however, Morrison had been a presence on campus, speaking to incoming students on Admitted Students Day in April, chatting with students taking a break from studying at Feast for Finals in May, attending Law School events, and getting to know the school and its diverse body of students, faculty, and programs.
When Morrison was selected as dean earlier this year, Supreme Court Justice Ruth Bader Ginsburg told the New York Times that NYU Law had "snared a prize." Morrison clerked for Justice Ginsburg.  "Trevor possesses in abundance all the qualities needed to make a great dean," said Justice Ginsburg.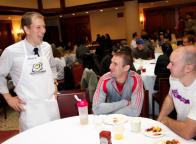 "Trevor has excelled in all aspects of his professional life—as a scholar, a practitioner, a teacher, and an institutional citizen. I also know him to be an enormously warm and caring person, and people who have worked with him in a variety of settings describe him as a treasured colleague," said University President John Sexton in a letter to the community about Morrison's appointment. "These personal and professional qualities make him the right pick to lead NYU Law, and to take an already exceptional institution to new levels of excellence." (Read the NYU Law web announcement of Morrison's appointment here.)
Prior to joining NYU Law, Morrison served as the Liviu Librescu Professor of Law at Columbia Law School, where he was also faculty co-director of the Center for Constitutional Governance and faculty co-chair of the Hertog Program on Law and National Security. Morrison spent 2009 at the White House, where he served as associate counsel to President Barack Obama. (Read Morrison's full faculty biography here.)
In a recent New York Law Journal profile, Morrison elaborated on some of his plans for the future of NYU Law. Morrison will also be teaching Constitutional Law starting this fall, a course that he previously taught at NYU Law as a visiting professor in 2007.
Posted on June 1, 2013