Judge Theodor Meron, Charles L. Denison Professor of Law Emeritus and Judicial Fellow, was reelected by his fellow judges to another two-year term as president of the International Criminal Tribunal for the Former Yugoslavia (ICTY) on October 1. Meron's previous two-year term began in October 2011; he had earlier served as president from March 2003 to November 2005. Since being elected to the ICTY in 2001, Meron has served in the Appeals Chamber, hearing appeals from both the ICTY and the International Criminal Tribunal for Rwanda (ICTR).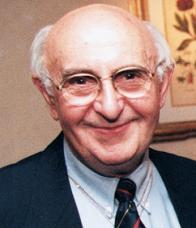 A leading expert on international humanitarian law, human rights, and international criminal law, Meron joined the NYU Law faculty in 1977. His scholarship helped form the legal foundations for international criminal tribunals. He has also written about the laws of war and chivalry in Shakespeare's historical plays.
Meron was a professor of international law at the Graduate Institute of International and Development Studies in Geneva from 1991 to 1995, and has also been a visiting law professor at Harvard University and the University of California, Berkeley. Between 2000 and 2001 he served as counselor on international law in the U.S. State Department. An honorary editor and former co-editor-in-chief of the American Journal of International Law, Meron has written more than 100 articles and a dozen books. Among many other distinctions, he served as a public member of the U.S. delegation to the CSCE Conference on Human Dimensions in Copenhagen, a member of the U.S. delegation to the Rome Conference on the Establishment of an International Criminal Court, a Rockefeller Foundation Fellow, an Officer of the Legion of Honor in France, and a fellow of the American Academy of Arts and Sciences.
In March 2012 Meron was appointed by the U.N. Secretary-General to a four-year term as president of the Mechanism for International Criminal Tribunals, which was formed to continue the work of the ICTY and the ICTR after those two bodies complete their mandates.
Posted on October 1, 2013