Trevor Morrison, a constitutional law expert and chaired professor at Columbia Law School, has been selected as the 17th dean of NYU School of Law. He will succeed Richard Revesz, who will step down from the deanship on May 31, after 11 years.
"I am very pleased that Trevor Morrison will be NYU Law's next dean," said NYU President John Sexton. "A clear sign of an institution's direction is the quality of the talent it attracts, and the recruitment of someone of Trevor's caliber says much about the Law School." Sexton, who served as dean of the Law School from 1988 to 2002, selected Morrison from a slate of candidates prepared by a search committee formed in November.
Revesz, who will remain on the Law School faculty as a professor and dean emeritus, said, "It gives me great comfort and confidence to know that leadership of the Law School is passing into Trevor's very capable hands. He has the talent, energy, and vision to take an already exceptional institution to new levels of excellence. "
"John Sexton and Ricky Revesz set a very high bar for leadership at NYU Law, but I have every confidence that Trevor will prove to be an extraordinary successor," said search committee chair Daryl Levinson, David Boies Professor of Law. "He is a leading constitutional scholar, and individuals who have worked with him in a variety of settings extol his virtues as a colleague, a dedicated institutional citizen, and an exceptional teacher."
Morrison is currently the Liviu Librescu Professor of Law at Columbia, where he is also faculty co-director of the Center for Constitutional Governance and faculty co-chair of the Hertog Program on Law and National Security. He spent 2009 on leave from Columbia, serving in the White House as associate counsel to President Barack Obama. Drawing on both his scholarship and work experience, Morrison has developed particular renown for his expertise on constitutional law as practiced in the executive branch. "Trevor served the President with great distinction in the Office of the White House Counsel," said Robert Bauer, who headed the office during part of Morrison's time there. "He's an outstanding choice to be NYU Law's next dean."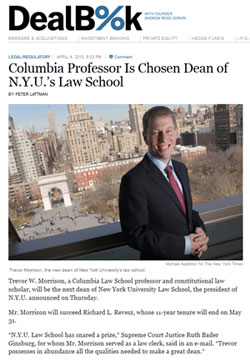 From 2003 to 2008, Morrison taught at Cornell Law School, and he was a visiting associate professor at NYU Law in 2007. Before entering academia, he was a law clerk to Judge Betty B. Fletcher of the U.S. Court of Appeals for the Ninth Circuit (1998-99) and to Justice Ruth Bader Ginsburg of the U.S. Supreme Court (2002-03). Between those clerkships, he was a Bristow Fellow in the U.S. Justice Department's Office of the Solicitor General (1999-2000), an attorney-advisor in the Justice Department's Office of Legal Counsel (2000-01), and an associate at Wilmer, Cutler & Pickering (now WilmerHale) (2001-02).
"NYU Law is a spectacular and inspiring institution, and I am deeply honored to have been selected as its next dean," said Morrison. "These are challenging times for legal education, when some of the basic premises of our mission and approach are being reexamined. But part of what makes NYU so special is its capacity to equip students to succeed in today's marketplace while holding fast to the core values that have long made NYU a distinctive, and distinctively valuable, leader in legal education. I look forward to working with the faculty, students, administrators, trustees, and alumni in pushing forward on NYU's path of excellence."
Morrison, who is 41, grew up on Vancouver Island in British Columbia. He received a B.A. (hons.) in history from the University of British Columbia in 1994, and a J.D. from Columbia Law School in 1998. He is a member of the American Law Institute and the U.S. State Department's Advisory Committee on International Law. In May 2011, he was awarded the Willis L.M. Reese Prize for Excellence in Teaching by the Columbia Law School Class of 2011. His wife, Beth Katzoff, is currently a librarian in the C.V. Starr East Asian Library at Columbia University. They have two daughters.
Members of the dean search committee, in addition to Daryl Levinson, included:
Rachel Barkow, Segal Family Professor of Regulatory Law and Policy; Lauren Benton, Professor of History, Affiliate Professor of Law, and Dean, Graduate School of Arts and Science; Evan Chesler '75, Partner and Chairman, Cravath, Swaine & Moore and Trustee, School of Law Foundation; Florence Davis '79, President, The Starr Foundation and Trustee, School of Law Foundation; Jeannie Forrest, Vice Dean, NYU Law; David Garland, Arthur T. Vanderbilt Professor of Law; Lewis Kornhauser, Alfred B. Engelberg Professor of Law; Lance Polivy '13, President, NYU Law Student Bar Association; and Kim Taylor-Thompson, Professor of Clinical Law.
Read NYU President John Sexton's message to the NYU Law Community about the appointment of Trevor Morrison as NYU Law's dean.
Posted on April 4, 2013