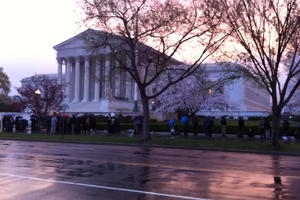 By Jeff Stein '12
At 3:30am this Wednesday, the crowd outside the U.S. Supreme Court more resembled Lady Gaga groupies than legal advocates (albeit with less exciting hair). Sleeping bags and folding chairs lined the sidewalk and people gathered, campfire-style, in circles. All of us— lawyers, law students, NGO workers, and other justice-minded individuals—had sacrificed a night's sleep to witness the making of not music, but history.
That morning, Professor Bryan Stevenson was scheduled to argue two cases, Miller v. Alabama and Jackson v. Hobbs, in an effort to persuade the Supreme Court that sentencing juveniles to life in prison without the possibility of parole violated the Eighth Amendment's prohibition of cruel and unusual punishment.
I had taken Stevenson's Eighth Amendment litigation course last year and, since last fall, had assisted his organization, Equal Justice Initiative, with a number of cases involving juveniles. I helped file a First Amendment claim after a prison prevented a client from receiving a book, Slavery by Another Name, that Professor Stevenson had sent. Three months ago, upon learning that there would be oral arguments on Miller and Jackson, I booked tickets to D.C. This was going to be a historic moment and I wanted to be there; it was the perfect capstone to my law school experience.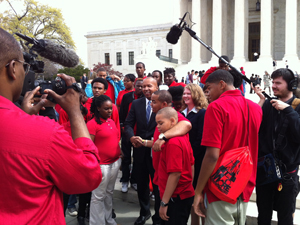 Like Miller v. Alabama and Jackson v. Hobbs, the cases I've worked on generally involve individuals who are being punished unfairly because of factors such as poverty, race and neurobiology. Indeed, a line of Supreme Court opinions interpreting the Eighth Amendment's application to juveniles in the criminal justice system recognized that children's brains are physiologically distinct from those of adults. The underlying rationale explains why our society does not allow children to buy alcohol, vote, or serve on juries. It's no surprise that the American Psychological Association and a group of former juvenile court judges filed amicus briefs in support of Stevenson's positions in Miller and Jackson.
Back at the courthouse, so many observers with preferred status had shown up by 10 a.m. that the officers stopped admitting general visitors for the Miller argument before I reached the door. At 11 a.m., with more than 300 people still waiting on line, guards admitted me and about 20 others into the courtroom. I rushed inside just as Stevenson finished his Jackson argument. After listening to the Arkansas Assistant Attorney General make his points, I watched Stevenson stand up for a brief rebuttal.
As Stevenson started to speak, the room reminded me more of a classroom than a courthouse, with Stevenson's response unfurling less as an argument than a lesson out of his Eighth Amendment Litigation course. Stevenson methodically explained how science, precedent, and consensus among the majority of states confirmed that condemning a child to die in prison without ever having a chance to prove that he or she had been rehabilitated constituted cruel and unusual punishment in violation of the Eighth Amendment.
Even in the pressured setting of the nation's highest court, Stevenson managed to reference that now-familiar but still unfulfilled refrain: "It could be argued that every person is more than the worst thing they've ever done." He continued, "But what this Court has said is that children are uniquely more than their worst act."  After Stevenson concluded, the Chief Justice paused, just long enough to allow Stevenson's parting words to resonate and then dissipate, before gaveling the hearing to a close.
The justices, and then the rest of us, filed out. As we poured onto the bright steps of the courthouse, a group of children holding signs in support of equal justice welcomed Stevenson. They had come by bus from Montgomery, AL to D.C. to support Stevenson's cause. After posing for pictures with the kids, Stevenson turned to them. "Now, when you get back to Alabama, you all are going to remember to come visit us at EJI, right?" Stevenson asked, grinning. "Yeah we will," the kids replied in unison. Stevenson smiled, waved, and walked off.

Posted on March 26, 2012