When Frank Stella wants to illustrate a point, he illustrates a point. During an appearance at the Law School on April 2, he did so with chalk.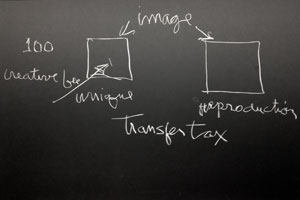 The renowned painter was part of a panel of experts assembled by NYU Law's Art Law Society to discuss a topic that has divided the visual-art world: resale royalty rights. Joining Stella as panelists were Jane Levine '85, worldwide director of compliance and senior vice president at Sotheby's; Christopher Reed, senior advisor for policy and special projects at the Copyright Office; and Christopher Sprigman, currently a visiting professor at NYU Law. Amy Adler, Emily Kempin Professor of Law, moderated the discussion.
As the U.S. Copyright Office explains on its website, a resale royalty "provides artists with an opportunity to benefit from the increased value of their works over time by granting them a percentage of the proceeds from the resale of their original works of art." Laws that, on average, provide for a 5 percent royalty are on the books in many countries, including throughout Europe. California is the only state with a resale royalty requirement, but a federal district court judge's ruling striking down the law as a Commerce Clause violation is on appeal. Congress has asked the Copyright Office to review the implications of a federal resale royalty law.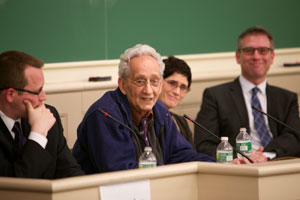 "I won't be coy," said Sprigman, "I think this is a terrible idea for a whole bunch of reasons." He said he saw no reason to create a special rule for visual artists that departs from the norm of U.S. law. He cited additional concerns that resale royalty laws benefit a tiny percentage of highly successful artists, and risk "beggaring" everyone else by depressing sale prices. What's more, he noted, studies show that a substantial portion of those who benefit from such laws are the heirs of dead artists. Do those people "deserve that boon?" Sprigman asked.
Levine said she agreed with Sprigman. "The ability to dispose of an object and have it move in commerce unencumbered is pretty fundamental to our copyright law," she observed. She also noted that very few artists benefit from resale royalty laws. For most, she said, "The first sale is the only sale." Reed, who is spearheading the Copyright Office's study of resale royalty laws, took no position, but outlined various issues his office is focusing on.
When it came time for Stella to talk, he got up, went to a blackboard at the front of a room, and picked up a piece of chalk. A wave of delight swept over the audience and cell phones came out all over the room to snap photos, as Stella began by drawing two squares. Existing resale royalty laws are "pretty useless," he said, and instead advocated a "transfer tax" that would apply to subsequent sales of an original work of art.
A key question underlying the discussion is whether a resale royalty right provides an economic incentive for artists to create more art. Stella flatly rejected that idea. "Stimulating creativity in the arts is not going to be done by any kind of resale right or handout to the artists," he said. What drives artists to produce, he said, "happens regardless of the market."
At the end of the event, the audience was left to ponder another question: Had a law school blackboard just become a Stella?
Posted on April 17, 2013