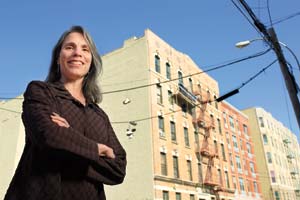 Students and alumnae gathered at the Law Women's 2009 Alumnae Reception on February 17 to celebrate the achievements of Robin Steinberg '82, who was named the Law Women Alumna of the Year. Steinberg is the founder and executive director of the Bronx Defenders, an organization dedicated to providing personalized and humanized legal services to indigent clients. In his remarks, Dean Richard Revesz lauded Steinberg as a "leader, innovator, and trailblazer in the difficult work of representing our city's poor."
After being introduced by her former assistant and current NYU Law student, Amalea Smirniotopoulos '10, Steinberg spoke briefly and engagingly about her time at the Law School and the career that followed. After spending fifteen years in a public defense environment that was "male, tough, and exclusive" and that derided personal involvement with clients as "hand-holding," Steinberg decided to pursue a more holistic, human-centered practice. "The Bronx Defenders opened its doors on September 1, 1997," she said, "hand-holding encouraged."
This was Steinberg's second visit to campus in recent weeks; on January 26 she spoke as part of the Public Interest Law Center's Leaders in the Public Interest Series. Her lecture was entitled, "Beyond Lawyering: A Holistic Vision of Public Defense."  "Robin Steinberg is an inspiration," said Erin Scharff '11, who was in the audience that night. "Her model of criminal defense—really a model of being a lawyer—reminded me that legal arguments are only one part of meeting a client's needs."