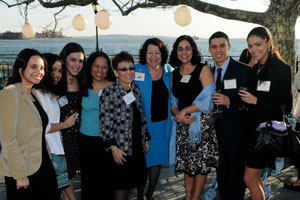 On May 26, President Barack Obama nominated Judge Sonia Sotomayor of the U.S. Court of Appeals for the Second Circuit to be the next justice on the Supreme Court.
"Judge Sotomayor is one of our nation's most accomplished judges," said Richard Revesz, Dean and Lawrence King Professor of Law at NYU School of Law. "NYU Law School was privileged to have her as an adjunct professor from 1998 to 2007, when she taught trial and appellate advocacy and a federal appellate court seminar. As a result of her intellect and determination, she overcame great adversity and went on to graduate summa cum laude from Princeton University and to receive a J.D. from Yale Law School, where she was an editor of the Yale Law Journal. Judge Sotomayor's years of experience as a former prosecutor, law firm partner, and trial and appellate court judge make her uniquely qualified to serve on the Supreme Court."
Shortly after her appointment to the Second Circuit in 1998, Judge Sotomayor attended a week-long training program for new federal and state appellate judges offered annually by the Law School's Dwight D. Opperman Institute of Judicial Administration (IJA). The IJA also performs research on courts and legal processes under the leadership of faculty directors Oscar Chase, Russell D. Niles Professor of Law, and Samuel Estreicher, Dwight D. Opperman Professor of Law.

Several NYU Law faculty members commented in the media on Judge Sotomayor's appointment including Barry Friedman, Vice Dean and Jacob D. Fuchsberg Professor of Law; Kenji Yoshino, Chief Justice Earl Warren Professor of Constitutional Law; Cristina Rodríguez, Professor of Law; Rachel Barkow, Professor of Law; and Richard Epstein, Visiting Professor of Law and James Parker Hall Distinguished Service Professor of Law at the University of Chicago Law School.