U.S. Supreme Court Justice Sonia Sotomayor, a former adjunct professor at NYU School of Law, received an honorary Doctor of Laws degree and delivered the address at NYU's 180th Commencement at Yankee Stadium on May 16.
Escorted to the lectern by University Trustee Maria Bartiromo, Sotomayor was visibly moved as Kenji Yoshino, Chief Justice Earl Warren Professor of Constitutional Law, introduced the justice to the enthusiastic crowd as "a self-described and proud Nuyorican" and "an early and awesome achiever." Sotomayor, the first Hispanic and third woman on the Supreme Court, grew up in a South Bronx housing project a few miles from the old Yankee Stadium. She went on to be valedictorian of her high school class, graduate summa cum laude from Princeton University, and attend Yale Law School before working as an assistant district attorney in Manhattan, a corporate litigator, and a district and appellate court judge.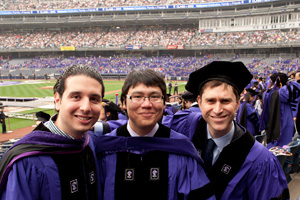 "Your sense of compassion and moral courage would lead to a lifetime of humanitarian endeavor, and a passion for law would propel you to the highest court in the land," said Yoshino. "While forging a brilliant career spanning three decades, you brought to bear on massive caseloads through exacting discipline and preparation the weight of your formidable intelligence and wisdom."
NYU President John Sexton, Law School dean emeritus and Benjamin F. Butler Professor of Law, addressed Sotomayor in conferring her honorary law doctorate: "You have arrived at the pinnacle of your noble profession, exercising rigorous adherence to the rule of law even as you exude deep humility and profound awareness of the real-world consequences of your decisions."
Sotomayor, a diehard Bronx Bombers fan, began her speech by remarking on the venue in which she delivered it. "I suspect that having this ceremony at Yankee Stadium may not be so meaningful for the many of you who are not from New York, or the few misguided of you, like David Brooks, who root for the Mets," said Sotomayor, joking about the baseball loyalties of one of her fellow honorary degree recipients.
"For me, this event at the new stadium is momentous," she said. "Nothing in my childhood hinted to me that I would be in a position someday to stand on this field and speak to such a large crowd. As a child, I only saw the stadium on television when I watched baseball games next to my dad on the sofa."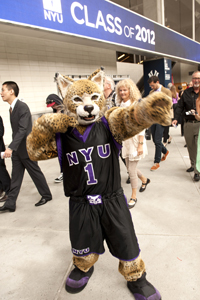 In her address, Sotomayor reflected on the several simultaneous feelings she was experiencing—humility, excitement, challenge, gratitude, and engagement—and drew parallels with her own life and the lives of those graduating. She also spoke of her deep affection for New York City.
"Having been a part of the fabric of this city, you will always carry its energy inside you," said Sotomayor. "And the city will challenge you to do big things, to accomplish as much as you can, to work at bettering the world in every way you know how.... For me, curiosity about the world and people I interacted with and maintaining an excitement about new learning propelled me forward in my career." She described a fateful chance encounter with former Manhattan district attorney Robert Morgenthau after wandering curiously into an event where he was speaking that led her to become an assistant district attorney in his office.
The excitement of a challenge, she said, was to be embraced: "Being a little frightened, as I have been taking every step in my life, including becoming a Supreme Court justice, is natural and unavoidable. But being hopeful and remaining open to the joy of a new experience can counterbalance that anxiety and help you meet each new challenge.... To squeeze from life its fullness, to be happy in this world in the short period of time we are given, to find meaning in life, you have to be actively giving members of your communities. Neither your life nor the world you live in just happens. You control the quality of your lives and your communities. It is only in giving to others that you can find meaning and satisfaction in what you do."
In ending her address, Sotomayor returned to humility, the first emotion she had cited. "I am here because of the help of many," she said, "and because curiosity, gratitude, and engagement let me dream big.... Just keep dreaming, and keep enjoying the process of new discoveries. Congratulations, Class of 2012. Dream big, and achieve much."
Posted on May 18, 2012