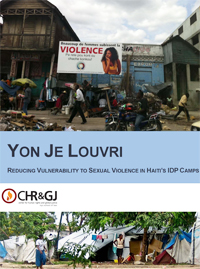 High levels of sexual violence against women and girls in Haiti's tent camps correlate with their inability to find adequate food, clean water, and sanitation, according to a new report released today by NYU Law's Center for Human Rights and Global Justice (CHRGJ) and Global Justice Clinic (GJC). Published just weeks after the two-year anniversary of the January 12, 2010 earthquake, the report reveals that in an alarming 14 percent of camp households surveyed, at least one person had been a victim of rape or sexual assault since the earthquake. (IDPs are "internally displaced persons" who were forced to flee their homes because of conflict or disaster but haven't crossed international borders.) Fully 70 percent said they were more fearful of sexual violence since the earthquake.
The report, which is entitled "Yon Je Louvri: Reducing Vulnerability to Sexual Violence in Haiti's IDP Camps," was co-authored by Professor Margaret Satterthwaite '99, a faculty director at CHRGJ; Justin Simeone, a scholar in residence at CHRGJ; Farrell Brody '12; and Nikki Reisch '12. "Our report proves what Haitian women's groups have been saying since shortly after the earthquake: that women who have difficulty accessing the basic necessities of life, such as clean water, functioning latrines, and adequate food, are especially vulnerable to sexual violence," said Satterthwaite. "Humanitarian best practices for preventing and responding to sexual violence need to be implemented immediately in Haiti's remaining IDP camps. Simple measures like installing lighting in camps and locks in latrines must be coupled with long-term strategies for women's economic empowerment."

The study suggests that those most vulnerable to sexual violence are likely to be young and female, to reside in a household with three or fewer members, to have limited access to food, water, and sanitation, and to live in a camp without participatory and responsive governance structures. "Many women and girls lost the family and community protections they had before the earthquake," said Nikki Reisch '12. Alongside this "Victim Profile," the study presents a set of concrete recommendations about how the government of Haiti, the international community, and organizations providing relief and development assistance can reduce the vulnerabilities of those fitting the profile. Specifically, the study calls on the government of Haiti and its partners to provide IDPs who have been sexually assaulted in camps with free and immediate access to alternative shelter, medical services, and legal assistance; expand security patrols in and around camps and install lighting and locks in sanitation facilities in camps; prioritize creation of income-generating activities for women; ensure all IDPs have access to free or affordable clean water; and stop forced evictions of IDPs.
Satterthwaite is testifying on the study today before the Congressional Black Caucus. An article on the study has also been published in the new book Tectonic Shifts: Haiti Since the Earthquake, a collection of pieces about the political, social, and economic realities of post-earthquake Haiti.
Posted January 23, 2012