The 19th annual Herbert Rubin and Justice Rose Luttan Rubin International Law Symposium on October 24 focused on "The Function of Judges and Arbitrators in International Law," with an assembly of experts weighing in at the daylong event.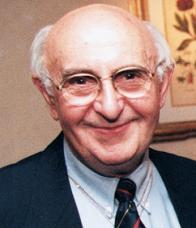 The symposium's first panel, "Competing Theories of Justice and Adjudication: The Role of Judges in International Law," featured commentary from a distinguished group of practitioners, beginning with Judge Theodor Meron, Charles L. Denison Professor of Law Emeritus and Judicial Fellow. Meron is currently president of both the International Criminal Tribunal for the Former Yugoslavia and the Mechanism for International Criminal Tribunals.
After touching on his early academic and professional interest in international humanitarian law, international criminal law, and human rights law, which led to his becoming an international judge, Meron turned to the subject of how he and his colleagues make decisions and which authorities they consult in doing so.
"If you are a judge, you must be faithful to the commands of the law, whatever the consequences," he said. "You do not have a broader political agenda or any broader agenda." Their guiding principle, Meron asserted, is justice, and their mission is not to create law but to uphold it.
Meron acknowledged that the "indeterminate character" of customary international law is a complicating factor. Nevertheless, he said, "Judges in international criminal tribunals must restrain themselves from any tendency to drift toward lawmaking and making decisions based on what they think the law ought to be, rather than what it actually is."
Fellow panelists Judge Stephen Schwebel, president of the Administrative Tribunal of the World Bank and former president of the International Court of Justice, and Geir Ulfstein, professor of public and international law at the University of Oslo, provided their own thoughts on the appropriate conduct and function of international judges and arbitrators. Subsequent panels included "Cross-Judging: Dialogue in the International Judicial System," "Lawmakers or Dispute Settlers?: The Role of Arbitrators in International Arbitration," and "A Conversation about the Future of International Courts and Tribunals."
Among the other symposium participants were José Alvarez, Herbert and Rose Rubin Professor of International Law; Global Visiting Professor of Law Eyal Benvenisti; Gráinne de Búrca, Florence Ellinwood Allen Professor of Law; Professor Franco Ferrari; Global Professor of Law from Practice Judge Lech Garlicki; and Linda Silberman, Martin Lipton Professor of Law. The symposium was sponsored by the NYU Journal of International Law and Politics and PluriCourts: Centre of Excellence at the Faculty of Law of the University of Oslo, along with the Institute for International Law and Justice, the NYU International Law Society, and the NYU International Arbitration Association.
Watch the full video of "Competing Theories of Justice and Adjudication: The Role of Judges in International Law" (1 hr, 43 min):
Posted on November 6, 2013