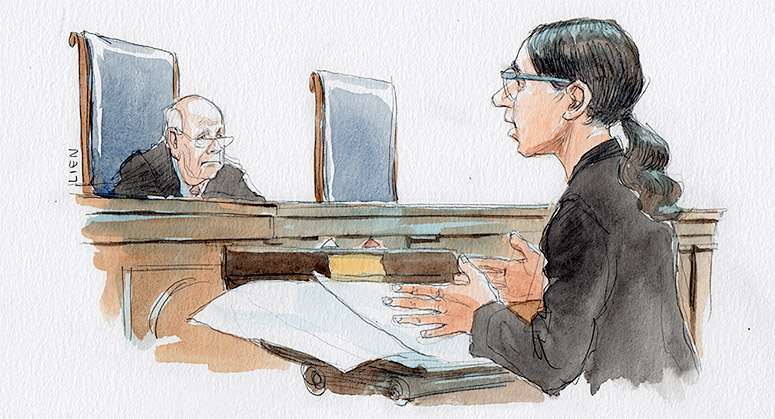 Meeropol advocates for prisoners' rights and the constitutional rights of Muslims
In the final hearing of the Obama administration, the US Supreme Court heard arguments in Ziglar v. Abbasi, a case 15 years in the making for Rachel Meeropol '02, senior staff attorney at the Center for Constitutional Rights (CCR), who argued for the plaintiffs. The case is a class action lawsuit brought by CCR on behalf of hundreds of Muslim, South-Asian, and Arab non-citizens who were detained by the US government after 9/11 and, CCR claims, treated as suspected terrorists and abused based solely on their race, religion, ethnicity, and immigration status. This was Meeropol's first argument before the Supreme Court, and her work in this case is the product of a lifelong passion for civil rights, particularly prisoners' rights.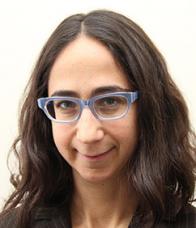 Meeropol's interest in social justice began at a young age. She is the granddaughter of Julius and Ethel Rosenberg, who, in 1953, were executed for conspiracy to commit espionage for the Soviet Union. "I grew up knowing about their story and with a real sense of justice and injustice and the importance of political engagement," Meeropol says. 
That sense of justice led Meeropol to NYU Law, where she received an Arthur Garfield Hays Fellowship, which is awarded to 3Ls who have demonstrated a commitment to civil liberties. Throughout her career, Meeropol says, she has continuously drawn upon the community of Hays fellows—and other NYU Law alumni working in public interest—as an important resource for advice and expertise. Meeropol was "one of the stars of the Hays Program," says Sylvia Law '68, Elizabeth K. Dollard Professor of Law, Medicine and Psychiatry and co-director of the Arthur Garfield Hays Civil Liberties Program. "She has an extraordinary ability to make the human story at stake in particular issues come alive to people."
Meeropol interned at CCR during her 2L summer, and following the events of 9/11 later that fall, felt compelled to continue volunteering at the organization. She received an Equal Justice Works Fellowship to join CCR after graduation, and her very first assignment was to draft a section of CCR's opposition to the first motion to dismiss filed in Turkmen v. Ashcroft—the case that would become Ziglar v. Abbasi. Meeropol continued to work on the case, winning a ruling from the US Court of Appeals for the Second Circuit before it reached the Supreme Court.
The case is particularly significant because, in addition to seeking compensatory and punitive damages for CCR's clients, Meeropol says, the case represents an attempt to hold Bush administration officials such as former attorney general John Ashcroft and former FBI director Robert Mueller accountable for their alleged role in racial and religious profiling. "This is a case about what high-level policy setters can get away with," Meeropol says. "Are they allowed to violate clearly established constitutional law knowing they will never face personal liability? We think it's incredibly important that the Court not send that message, and especially not send that message right now."
In the 15 years that Meeropol has worked on Ziglar v. Abbasi, she has also worked on a number of other prisoners' rights issues. She is the co-author and editor of two editions of the Jailhouse Lawyers Handbook, a self-help manual for prisoners who want to bring lawsuits on their own to challenge abusive conditions in prison. Meeropol also recently challenged the practice of prolonged solitary confinement in California's Pelican Bay State Prison in Ashker v. Governor. The case gained national attention when the prisoners organized and went on hunger strike to draw awareness to the inhumane conditions they suffered. As a result of the settlement in the case, Meeropol says, "hundreds of men have been released into the general prison population and are experiencing things like seeing grass or a bird for the first time in decades."
In all of her work, Meeropol shows an incredible combination of focus, integrity, and perspective, says Alexander Reinert '99, professor of law at Benjamin N. Cardozo School of Law, who served as Meeropol's co-counsel leading up to her Supreme Court arguments in Ziglar v. Abbasi. "She's an extremely thoughtful person," he says, "and fundamentally committed to ensuring that people get justice."
Posted March 13, 2017