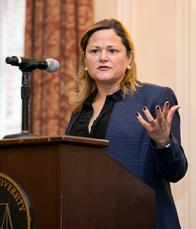 As a new governor of Puerto Rico took office this year, the commonwealth continued to grapple with an economic crisis that included major budget deficits as well as more than $70 billion in public debt. A panel of experts, including two members of the Promesa board that former president Barack Obama charged with financial oversight of the island; Promesa critic Melissa Mark-Viverito, New York City Council speaker; and Antonio Pietrantoni '15, an associate at Cleary Gottlieb Steen & Hamilton, gathered at NYU Law to discuss the controversial role of the board and ways to return Puerto Rico to fiscal health.
Opening the discussion, Brandon Fuller, deputy director and research scholar at the Marron Institute of Urban Management, stated that while Puerto Rico's financial difficulties are unique, "the efforts to find solutions to these challenges will be important to the commonwealth, but also to jurisdictions elsewhere—states and municipalities."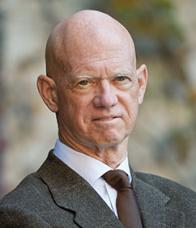 The two Promesa board members, Arthur Gonzalez LLM '90, senior fellow at NYU Law and former chief judge of the US Bankruptcy Court for the Southern District of New York, and David Skeel, S. Samuel Arsht Professor of Corporate Law at University of Pennsylvania Law School, examined the roots of the fiscal crisis in Puerto Rico and explained why Congress created Promesa to restore fiscal stability to the island. "Had Puerto Rico been a state, it would have been able to take its troubled municipality into an insolvency proceeding under Chapter 9 of the Bankruptcy Code," said Gonzalez. And when the commonwealth tried to enact its own version of a bankruptcy law for public utilities in 2014, the US Supreme Court struck down the law. "Because of the contracts clause of the Constitution, it's impossible to restructure [Puerto Rico's] debt," added Skeel.
The Promesa board members faced criticism from Mark-Viverito, who argued that Promesa is more concerned with the interests of creditors than the interests of the people. "The voice of the people on the island are being dismissed when it comes to the debt crisis and the fiscal control board," the Speaker said. "There is no promise here or future for the island in terms of what the control board will be recommending. We're seeing simply austerity measures that in other countries have been ineffective."
Following Mark-Viverito's remarks, a small group of protestors disrupted the conversation, chanting, "The people before the debt" before eventually leaving the event.
In the continued discussion, panelists explored the issue of Puerto Rico's status and relationship to the US, which many see as closely tied to the financial crisis. Mark-Viverito described Puerto Rico as a "stepchild" to the US, with Puerto Ricans ineligible for full citizenship and the commonwealth unable to access federal disbursements or benefits at the same level as states. Gonzalez countered by arguing that the debt crisis needed to be solved before Puerto Rico could make any progress in changing its status.
Bringing the conversation back to Promesa, Skeel noted that the board wanted to break with the mainland's history of trying to direct Puerto Rico's economy. "I feel strongly that we should try to create the conditions for growth, but that we shouldn't be trying to decide what [the growth] should look like," he said. "If the finances are in shape, it'll make Puerto Rico more attractive for businesses and for people."

Posted March 23, 2017