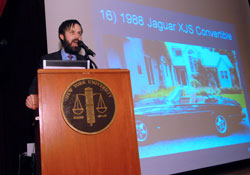 On February 19, the 15th annual Public Service Auction featured an eclectic array of items, including four VIP Lounge tickets to this year's NASCAR Sprint Cup Series and a 1988 Jaguar XJS convertible in excellent condition. The proceeds of the auction benefited more than 300 students engaged in internships at a wide variety of public interest organizations.
While a final tally is not yet in, the Jaguar was the big-ticket item of the evening, selling for $6,000. Other notable lots included a champagne hot-air balloon flight for four; drinks and dinner with New York City Police Department Commissioner Raymond W. Kelly (LL.M. '74) and Deputy Commissioner for Legal Matters S. Andrew Schaffer, an adjunct professor at the Law School; and a gourmet champagne brunch for 20 hosted by Dean Richard Revesz and his wife, Professor Vicki Been '83.
Revesz also participated in a Wii Tennis best-of-three challenge in Tishman Auditorium against winning bidder Daniel Marx '10. In front of a giant video screen, the two battled it out, with Marx triumphing in the hard-fought third game. Marx conceded that Revesz was "a great competitor. If he ever gets sick of this whole deanship thing, I think he could have a real future in competitive Wii play."
"It's incredible how hard our students work on this event, which is run completely by them," said Sara Rakita '98, associate director of the Public Interest Law Center (PILC). "The auction is a vitally important fundraiser for public service at the Law School. In one evening, we raise about 10 percent of the entire cost of PILC's summer funding program, which gives students the opportunity to do amazing public interest work across the country and around the world." Rakita added that, despite the current economic downturn, everyone involved with the auction was enthusiastic about the hundreds of items donated by students, faculty, alumni, and others.