[Broken image. Fid: 31767].
Greenberg Lounge was transformed into a testament to public service as NYU Law's Public Service Auction, organized by students and the Public Interest Law Center to raise funds for more than 400 1Ls and 2Ls doing public interest work every summer, celebrated its 20th year on February 27. In keeping with the theme, "20 Years of Service," the perimeter of the room was festooned with posters and slideshows of alumni telling stories of how PILC-funded summer work experiences had helped them achieve their career goals.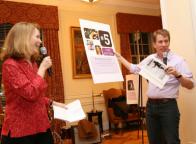 Dean Trevor Morrison served as the auctioneer, assisted by professors Cynthia Estlund and Samuel Issacharoff. The latter couple offered up for bid a poker night at their home joined by New Yorker legal affairs writer  Jeffrey Toobin. Morrison donated a dinner for five students.  The bidding among 400 registered guests was lively and loose. Reading a description of a dinner for four students with professors Daryl Levinson and Richard Pildes that included the teaser, "For the right price, Professor Levinson might wear a kilt," Morrison ad-libbed, "You might also be able to pay him not to wear a kilt."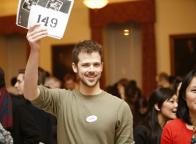 The live auction concluded with the traditional Mystery Item, which was a chance to compete against the dean at Wii Dance. Morrison told the crowd that he had been practiing at home under the careful supervision of his two daughters. If audience applause was the measure, winning bidders Irene Dorzback, associate dean of the Office of Career Services and an avid swing dancer, and Morrison's daughter Clio were no match for the dean, who had all the right moves to "That's Not My Name," by the Ting Tings. 
The silent auction offered many opportunities to join faculty outside of the classroom. Bidders won dinners and drinks with professors Norman Dorsen, Bryan Stevenson, and Stephen Schulhofer, among others. Professors Jennifer Arlen, Rachel Barkow, Florencia Marotta-Wurgler, and Katrina Wyman donated their popular afternoon of chocolate tasting. And one lucky student won a golf outing with Trustee Jonathan Mechanic '77, chairman of the real estate department of Fried, Frank, along with Dean Morrison, at the Bayonne Golf Club.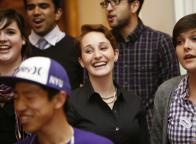 The Law School's a capella group Substantial Performance kicked off the evening, and a new student band, Champagne Friday, drew the event to a close. All told, the evening raised approximately $63,000 for student funding grants. Later in March, Columbia Law School will host the 2014 Dean's Cup basketball game which will raise funds for both law schools' summer public interest grants.
Posted March 5, 2014