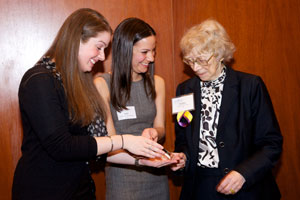 Pauline Newman '58, a judge on the United States Court of Appeals for the Federal Circuit, was named by NYU Law Women as its 2013 Alumna of the Year at a ceremony on February 12. Judge Newman is the eighth alumna to receive the award.
In a speech at the ceremony, Judge Newman described her "extraordinarily satisfying and not quite straightforward" career path. Her initial plan after graduating from Vassar College in 1947 was to become a doctor, she said. But after she was turned down by 12 medical schools, she switched her sights and got an M.A. in pure science from Columbia University and a Ph.D. in chemistry from Yale University in 1952. She was the first woman Ph.D. to be hired as a research scientist at American Cyanamid, a position she found so stifling that after two years, she quit, bought a ticket on the S.S. Ile de France and sailed for Paris. She stayed for six months, funding her sojourn by tending bar in a boite on the Ile St. Louis and boasts that to this day she can serve up any mixed drink—as long as it's ordered in French.
Returning to New York, she was offered a job no one else wanted: writing patent applications at FMC Corporation. "That was a job done either by failed scientists or failed lawyers, but since I was getting quite hungry, I took it," she said. To her surprise, "it wasn't quite as dreary as I expected." Her commute took her past NYU School of Law, where she soon decided to enroll. "The law seemed to summon the same parts of my mind that had attracted me to the sciences years before," Newman said.
Her scientific background shaped Newman's legal career—as director of patents, trademarks and licensing at FMC Corporation; as a science policy specialist in the Department of Natural Resources of UNESCO; and as the first woman to be appointed to the U.S. Court of Appeals for the Federal Circuit in 1984. As the author of a number of key opinions on intellectual property, Newman has helped guide the growth of the technology industry, which now accounts for between 60 and 78 percent of the U.S. economy—"depending on how much weight you put on the intellectual property component," she notes.
Newman concluded her address by enjoining the attendees to "keep your options open, your mind open and see what opportunities turn up." She added: "And if you have the irresistible urge to dump everything and go to Paris, I would urge you to do that, too. But I can promise you that in the law, the future will delight you. It certainly has delighted me."
Newman endowed the Pauline Newman Professorship of Law, now held by Professor Rochelle C. Dreyfuss, as well as the Pauline Newman Intellectual Property Fellowship, to encourage young academics to develop an interest in patent and intellectual property law. She received the Vanderbilt Medal, NYU School of Law's highest honor, in 2001.
Watch the full video of the event (46 min):
Posted February 20, 2013