As protestors rallied at airports and other locations around the country in opposition to President Trump's executive order on immigration, Omar Jadwat '01 leaped into action as well, helping craft a petition to challenge the president's action. An adjunct professor of law and director of the Immigrants' Rights Project at the American Civil Liberties Union (ACLU), Jadwat was part of the team that argued before US District Court Judge Ann Donnelly of the Eastern District of New York and won a stay of the immigration ban, the first of several such rulings from federal courts. Trump's order had temporarily barred entry into the US by individuals from seven predominately Muslim nations and by all refugees (indefinitely for those from Syria). During a recent conversation, Jadwat, who is an alumnus of the NYU Law Immigrant Rights Clinic (IRC), spoke about how oral arguments unfolded in that Brooklyn courtroom, why litigation and protest make a powerful combination, and the lessons from law school that have guided him over the years.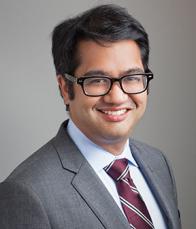 Did you expect individuals to be immediately detained at airports after the executive order was issued?
Honestly, no. I was not expecting that within hours of the ban being signed people would be detained and threatened with deportation. There had been rumors that this order was coming. We had been strategizing about ways to challenge it legally. But our strategy was for a situation that was not as fast moving and chaotic as the situation that actually came to pass. On Friday [the day the order was signed], we started to get information from the International Refugee Assistance Project (IRAP) and other partners that people were stuck at airports.
What we saw with this order and the process of implementing the order is that the Trump administration simply cast side considerations of what would be humane, what would be legal, what would be practical, and what would make the country safer. Our clients were people whose visas were based on their and their family's work with the US government overseas. One had worked for the US government for 10 years in Iraq. This illustrated better than any brief could how senseless and counterproductive the executive order was.
What was the ACLU's legal strategy in the petition? What happened in the courtroom?
A huge number of people stayed up all night Friday preparing this habeas petition, which had the primary goal of trying to make sure that the named plaintiffs would not be deported. The broader priority was to ensure that others in the same situation also would not be deported. We brought a nationwide habeas class action, seeking relief to stop the government from removing people pursuant to the ban.
It became clear that the government was not interested in fixing the situation on the ground, so we decided to go into court to try and get relief. We filed an emergency motion for stay that the court agreed to hear within hours, and on Saturday night, we found ourselves heading to Brooklyn for oral argument.
My colleague Lee Gelernt argued for our side. The government essentially told Judge Donnelly, "We're still figuring out what's going on. It's not fair to put us on the spot like this." The judge asked the sensible question: "Well, if you don't even know what you're doing, isn't that a reason that a stay would make sense?" The balance of the harm was so sharply tipped in our favor.
The key takeaway is that the combination of the litigation that we brought and that other folks have brought, the public coming out to protest, and lawyers coming out to advocate for people in the airports has protected us and prevented the worst aspects of the ban from going forward.
How did your career path lead you to the ACLU?
After NYU Law, I clerked for a year in the Southern District of New York and then came to the ACLU. I ended up here largely because I took a class [Contemporary Issues in Immigration Law and Policy Seminar] with Judy Rabinovitz [adjunct professor of law and deputy director of the ACLU Immigrants' Rights Project]. I was inspired by Judy and her work when I was in law school and reached out to her. We're co-teaching that class this term, which is a nice way to come full circle.
What has it been like to be an attorney at the ACLU?
There's a reason people stay here for a long time. I'm maybe number three on the longevity list for the Immigrants' Rights Project, even though I've been here 14-odd years. It's a great place to be an impact litigator. I'm surrounded by people who are brilliant lawyers, care deeply about these issues, and have a ton of experience. It really is a privilege to work here, and I've had the chance to gain progressive experience, both in terms of litigation and playing a role in management. When the opportunity arose to take the reins, I was ready.
Are there lessons from your time at NYU Law that have guided you over the years?
The lesson I learned in the IRC is that you can work a lot harder than you think you can and there are dividends for that work. Being dogged and creative allows you to get results, even in daunting circumstances. The notion that, in the course of 24 hours, we would go from getting a few texts about problems at the airport to having a nationwide stay of deportations under this order—that's a daunting idea when you just say it. But it was possible because of the hard work of many people—not just those at the ACLU, but at the Yale [Worker and Immigrant Rights Advocacy] Clinic, at IRAP, and at the National Immigration Law Center.
What advice do you have for students interested in pursuing a career in immigration law?
Immigration law is a fascinating area because the stakes are high for individuals and it really tests what our values are as a country and how strong our commitment is to the principles in the Constitution. Because of that, it's a rewarding area to work in as a lawyer. I would encourage folks to follow that interest and explore it. I don't know that I came to law school with a particular interest in immigration law, but the IRC solidified my sense of how I wanted to be engaged.
This interview has been edited and condensed.

Posted February 15, 2017