Following on the heels of a protracted presidential campaign focused largely on economic issues, the Comfort Global Economic Policy Forum on November 12 provided a timely opportunity for a host of experts from government, the media, industry, and academia to weigh in as the political dust settled.
Co-sponsored by NYU's Center for Financial Institutions and the Jacobson Leadership Program in Law and Business, the event included three expert panels as well as a keynote talk and Q&A by Peter Orszag, vice chairman of corporate and investment banking at Citigroup and former director of the Office of Management and Budget under President Obama. The first panel, chaired by Max E. Greenberg Professor of Contract Law Clayton Gillette, looked at municipal bankruptcy and state takeovers; the second, led by Distinguished Scholar in Residence and Senior Lecturer Gerald Rosenfeld, examined municipal finance markets, pensions, and budgets; and the third, moderated by Bernard Petrie Professor of Law and Business Barry Adler, discussed sovereign debt.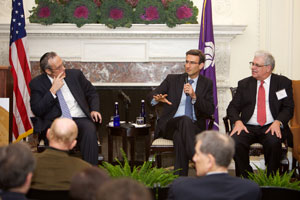 Orszag offered a substantive commentary in which he suggested that two aspects of the U.S. economy—the dramatic drop in labor's share of the national income over the past 30 years, and the deleveraging process occurring in the aftermath of the financial crisis—need to be separated in order to make sense of the current situation. While recent fiscal policy got a lot right over the past few years, he said, there has been misunderstanding about the nature of the recovery because the macroeconomic models of every entity from the Federal Reserve to the Congressional Budget Office to the Obama administration treated the housing bust as "IT Bust 2.0" (also known as the dot-com bubble). In fact, Orszag argued, "The IT losses were highly diversified across broad financial markets, whereas the housing losses were highly concentrated in very leveraged institutions, and therefore were propagated and exacerbated in a way that the IT losses were not." Those calculations affected the stimulus bill significantly and led to a less robust approach to shoring up the housing crisis, he said, to the recovery's detriment.
In a subsequent conversation guided by Stuyvesant P. Comfort Professor of Law Geoffrey Miller, director of the Center for Financial Institutions, and Adjunct Professor Alan Rechtschaffen, Orszag considered the impending "fiscal cliff," current geopolitical risks, and reasons to be optimistic about the U.S. economy.
Watch the full video of the first panel, "Legal Policy: Municipal Bankruptcy and State Takeovers" (1 hr, 13 min):
Posted on November 20, 2012