Through 56 years and seven deans, Norman Dorsen, who passed away in July, played a peerless role in the upward trajectory of NYU Law. At the same time, he led the way on some of the most important civil liberties work of the past half century.
BY ATTICUS GANNAWAY
Before he was a chaired professor at NYU School of Law, a US Supreme Court litigator, or the president of the American Civil Liberties Union (ACLU), Norman Dorsen was the subject of a full-page letter to his father, written by his boss, John G. Adams, the general counsel of the US Army, on March 30, 1955, Adams's penultimate day on the job.
It was less than a year after the conclusion of the Army-McCarthy hearings, where Dorsen—fresh out of Harvard Law—assisted Adams and Army Special Counsel Joseph Welch. In April 1954, 20 million viewers were riveted as Senator Joseph McCarthy and his chief counsel, Roy Cohn, locked horns with Adams and Army Secretary Robert T. Stevens over McCarthy's allegations of Communist sympathizers in the Army's ranks.
On June 9, Welch spoke in defense of a young lawyer, Fred Fisher, whom McCarthy was attempting to smear as a potential Communist. Welch's famous words irrevocably destroyed McCarthy in the public's eyes: "Have you no sense of decency, sir? At long last, have you left no sense of decency?"
Adams left government service the following March—but not before he sent Dorsen's father the letter about his son Norman, who co-authored the Army's lengthy brief regarding the circumstances that precipitated the hearings.
Wrote Adams, "I never heard him complain regardless of the number of hours of overtime involved; I found him always willing, perceptive, appreciative of the complications of the problem, tactful and courageous, and earnestly desirous of furthering the cause however possible consistent with honor. He became and remained a pillar of strength on whom we placed a near to intolerable burden week after week."
The Army-McCarthy hearings snuffed out the government careers of Cohn, Adams, and even Stevens, who resigned a few months after Adams's exit. At the same time, however, the hearings inspired Dorsen to pursue what became one of the longest and most brilliant civil liberties careers in modern American law.
Not long after his superiors departed, Dorsen left his first lieutenant position at the Pentagon for a Fulbright grant at the London School of Economics, having been forever altered by one of the starkest morality plays of the twentieth century. He was 24 years old.
A YOUNG MAN IN A HURRY
Dorsen was born in the Bronx in 1930 to Arthur and Tanya Dorsen, immigrants from Eastern Europe. According to David, Dorsen's only sibling, born in 1935, Dorsen was aware of civil liberties issues early on. "He was concerned about the rights of African Americans from a very young age," David recalls. "He was conscious of it much, much earlier, I think, than his contemporaries."
Dorsen graduated from the prestigious Bronx High School of Science at age 15 and enrolled at Columbia College, continuing to live at home. At Columbia, Dorsen joined Phi Beta Kappa and played basketball, becoming the JV team's high scorer as a sophomore and later making varsity. At the same time, the young man's budding worldview resulted in lively dinner conversations. "Our parents' views were rather traditional," says David, who also became a lawyer. "I think they were surprised that Norman went off in a way that really challenged the system as a major component of his professional life."
In the fall of 1950, Dorsen matriculated at Harvard Law School as part of the first class to include women and later became an editor of the Harvard Law Review. Following his electric stint at the Pentagon and the Fulbright year in London, Dorsen clerked first for Judge Calvert Magruder of the US Court of Appeals for the First Circuit and then for US Supreme Court Justice John Marshall Harlan II.
After taking a corporate law position at the prestigious firm Dewey, Ballantine, Bushby, Palmer & Wood, Dorsen said, the job felt like the wrong fit. In 1960, upon managing a losing Democratic campaign in a US House race, Dorsen considered three options: He could stay in politics, work for the State Department, or teach.
NYU Law, meanwhile, needed a new director for its Arthur Garfield Hays Civil Liberties Program, established two years earlier as the first program of its kind to prepare law students for civil liberties careers through hands-on training. The program was not yet functioning at peak level when then-Dean Russell Niles invited Dorsen to his office. He wanted to know if the young lawyer would be interested in heading the program.
"I said to myself, 'If this works out, I'll be in good shape,'" remembered Dorsen.
On March 1, 1961, he became NYU Law's newest assistant professor and the third director of the still-fledgling Hays Program. The first two directors had each served for one year. Dorsen would remain for 56.
AN INSTITUTION BUILDER
There are two parallel narratives of Dorsen's tenure at NYU Law. One involves his indefatigable efforts to help guide the Law School to its latter-day position in the uppermost tier of American legal education. The other revolves around his tireless devotion to the Hays Program and how its activities enabled him to undertake wide-reaching civil liberties work related to almost every significant social justice issue of the past six decades.
"I knew him as a legend," says John Sexton, who joined the NYU Law faculty in 1981, was named dean in 1988, and became University president in 2002. Sexton says that throughout his 14-year deanship, Dorsen was his most valued source of input on virtually every major decision, and Sexton eventually nicknamed Dorsen "uber-dean" to underscore his institutional importance.
In a 1991 NYU Law Magazine article by Dorsen on the Law School's history, he depicted an institution whose quality and reputation had sometimes been questioned since its founding in 1835. "In the 1960s there were great internal struggles based on sharp differences of educational philosophy and, sometimes, of personality," Dorsen wrote. Discussing some divisions within the faculty, Dorsen continued, "I was young and on the side of change, and I worked hard at it."
One impetus for change came in 1965 when Dorsen, upon making tenure, collaborated with fellow professors on a memo to the dean and the rest of the faculty. Asserting that rapid urbanization and social change necessitated a fresh approach to legal education, the memo argued for better allocation of resources and greater faculty involvement in setting institutional policies.
"If a law school, or for that matter any institution, does not grow or alter to meet the challenges that changing conditions inevitably present," Dorsen and his colleagues warned, "it is not merely standing still—it is declining, and it will be regarded as such."
Dorsen took advantage of opportunities for transformation. After Robert McKay became dean in 1967, Dorsen helped guide programmatic improvements and the addition of quality faculty. "Before we knew it," he recounted, "NYU was spoken of in some quarters as one of the top law schools in the country. This was something of an exaggeration at the time, but nevertheless the school was definitely moving in that direction." Progress continued in the late 1970s and 1980s as the Law School's national reputation as a public interest leader grew.
Throughout, Dorsen chaired a seemingly endless succession of committees and wrote report after report. Among other tasks, he helped revise the required curriculum, structure the Clinical Program, recast the LLM and JSD programs, and facilitate first-year elective courses—the kind of unheralded work that made a tangible impact on the quality of the Law School's education.
Among Dorsen and Sexton's most significant mutual endeavors—a "tremendous leap forward," per Sexton—was the creation of the Hauser Global Law School Program. In late 1992, Sexton proposed that Dorsen conceptualize and then run an iconoclastic new program that would draw international faculty and scholars to NYU Law, weave international and transnational legal perspectives throughout the general curriculum, and promote comparative and global legal scholarship. When Dorsen demurred, explaining that he did not have comprehensive knowledge of international law and the global legal scene, Sexton replied: "You're not caught in any disciplinary boxes, yet you're universally respected." Relenting, Dorsen served as the program's founding director from 1994 to 1996 and as its faculty chair from 1996 to 2002. He set the new enterprise on a steady course instrumental to making the Law School a universally recognized leader in global and international law, now an intrinsic part of its institutional identity.
"I would say that Norman Dorsen is the single most important person in the recent history of our law school," Sexton asserts.
A CIVIL LIBERTARIAN
As crucial as pushing NYU Law closer to greatness was for Dorsen, the bulk of his devotion flowed to the Arthur Garfield Hays Civil Liberties Program. The constitutional issues forming the majority of the fellows' work have shifted throughout the six decades of the program's existence, encompassing many of the most pressing civil liberties problems of the past half century: free speech and separation of church and state in the 1950s and 1960s, gender discrimination and the Vietnam War in the 1970s, LGBTQ-related discrimination in the 1980s and 1990s, and, most recently, immigration and checks on executive power, with racial discrimination constituting a through line. Throughout, Dorsen played an active role.
With the fellows' help, he wrote amicus briefs in major cases such as Gideon v. Wainwright (1963), which established criminal defendants' right to government-appointed counsel; New York Times Co. v. United States (1971), which made possible the publication of the Pentagon Papers; and United States v. Nixon (1974), which compelled the sitting president to turn over the secret White House recordings related to the Watergate scandal.
But Dorsen did more than draft. In a four-year period, he argued six cases before the US Supreme Court, winning four and narrowly losing two. The most high-profile victories include his first argument, In re Gault (1967), which secured due process rights for juveniles in delinquency proceedings, and Levy v. Louisiana (1968), which established constitutional rights for children of unmarried parents. One loss, United States v. Vuitch (1971), was the first abortion case heard by the court. The next such case was Roe v. Wade (1973), for which he helped write the brief and served as counsel of record.
The frequent collaboration of Dorsen and the Hays Fellows with the ACLU led to Dorsen's election as the ACLU's general counsel in 1969—a position he held for seven years. Burt Neuborne—the Norman Dorsen Professor of Civil Liberties at NYU School of Law—remembers Dorsen as an effective litigator. Neuborne recounts a time when he asked Dorsen to make an oral argument before the Second Circuit about the Vietnam War's unconstitutionality that Neuborne had not managed to successfully execute on previous occasions. "In the space of 20 minutes, he turned what was a fringe argument into a mainstream argument," recalls Neuborne. "I watched as the judges' faces went from a kind of stony resistance to a kind of puzzled concern. And then all of a sudden the argument was taken seriously."
Although Dorsen enjoyed litigating, when the ACLU needed a new board chairman (later president) in 1976, he answered the call. Dorsen faced organizational infighting and a legal landscape less embracing of civil liberties arguments than had existed during the Warren Court. A particular flash point was a 1977 case in which the ACLU defended American Nazis' right to march through Skokie, Illinois; many critics said the ACLU had overstepped a moral boundary. Dorsen, ever faithful to First Amendment principles, told the New York Times, "If we don't belong in Skokie, I don't know where we belong." In the end, there was no march in Skokie; instead, a rally occurred elsewhere. But the issues are no less divisive 40 years later, after Dorsen's passing. The ACLU's grappling with how to approach potentially violent demonstrations in the wake of events in Charlottesville, Virginia, highlights the crucial utility of what the Times called Dorsen's "magic touch for healing organizational wounds."
Dorsen's cool judgment helped the organization run a gauntlet of hot-button issues during his 15 years at the helm. "Norman was responsible for the transformation of the ACLU from a relatively small fringe group of intellectuals that had very little practical influence and that could meet in a phone booth on the Upper West Side into a massive organization that is the nation's civil liberties safety net," explains Neuborne, who served as national legal director during part of Dorsen's presidency.
"Among law teachers and scholars, Norman Dorsen was the very best," says US Supreme Court Justice Ruth Bader Ginsburg, another former ACLU colleague. "Ever mindful that law exists (or should exist) to serve the general welfare, he strived mightily to promote justice, equal and accessible to all. From my days in law school, when Norman was clerking for First Circuit Judge Magruder, through the years he led the ACLU and thereafter, I benefited from his wit and wisdom. The works of his fine hand will continue to guide and inspire legions of jurists, lawyers, and law students."
A COLLEAGUE AND A FAMILY MAN
Neuborne still marvels at Dorsen's ability to achieve consensus among the strongly opinionated ACLU board members, depicting Dorsen as a maestro of meetings: "When he was presiding over the board, he could literally orchestrate the debates the way you would lead an orchestra by timing who spoke when. And he never used this power to unfairly skew the debate."
Dorsen brought the same talent, Neuborne adds, to his Law School endeavors. "I watched him preside over committee after committee, dealing with difficult issues that could have torn the faculty apart."
Neuborne freely opines that he would not have been hired to teach at NYU Law if not for Dorsen's championing, and similar stories are told by several Hays alumni, including Elizabeth K. Dollard Professor of Law, Medicine and Psychiatry Sylvia Law '68, a Hays co-director since 1977; Stephen Gillers '68, Elihu Root Professor of Law; and Fiorello LaGuardia Professor of Clinical Law Martin Guggenheim '71.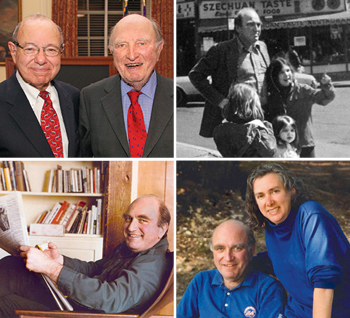 Invariably, Dorsen's colleagues mention his high standards and exacting attention to detail. "Norman was a master at litigation, but also at producing powerful documents, whether they're founding documents for an organization or a committee report or a governing document or a brief," says Law. While known more for his civil liberties work than his scholarship, Dorsen also co-edited three casebooks, wrote or edited 13 other books, and served as editor of the ACLU's 50-book series on the rights of vulnerable populations.
"One of the great pleasures of my professional career was finding a typo in something he wrote," says Gillers with a smile. "I gloated over that."
Despite Dorsen's array of professional activities, his personal life, he said, was equally rich. Dorsen first met Harriette Koffler '66 in Spring 1965. They went on their first date that September and were married on Thanksgiving Day. Together they had three daughters: Jennifer, who works in K–12 STEM teacher education; Caroline, an NYU academic like her father; and Annie, a theater director and writer.
Even through his grueling schedule, the family almost always dined together. "Our dinners were real conversations about what was happening in the world," Caroline recalls. Failing to read the New York Times was "a sin," she notes, and Dorsen refused to go on vacation anywhere he couldn't obtain a copy.
He was an understanding father, Caroline says, as his children grew up. In 1985, years after the Dorsen family moved to the San Remo building on Manhattan's Upper West Side, Madonna was rejected as a prospective tenant by the building's co-op board, of which Dorsen was a member. The New York Post telephoned his apartment for a statement, and though Dorsen wasn't home to comment, his daughters were. The Post story's lede: "The American Civil Liberties Union has defended the right of Nazis to march in Skokie, Ill., but Madonna apparently doesn't rate such support." Remembers Caroline, "Someone else could have been angry and embarrassed and shocked and all of those things." But her father, she says, shrugged it off.
In 2008, Harriette, a successful lawyer in her own right, was diagnosed with cancer; she died three years later at the age of 68. "She was a fabulous person, personally and professionally and politically," says Law. "And Norman missed her enormously."
A LUCKY MAN
For Dorsen's pivotal institutional role, Neuborne long ago dubbed him NYU Law's "First Citizen" ("uber-dean" also remains in currency). "I've always been happy that he was well appreciated in the halls of the Law School," says Guggenheim, "and that he knew that."
Few benefited more from Dorsen's esteemed position than his students. "He was extremely effective in opening doors for young civil liberties students and lawyers who wanted to get into academia," observes Law. "And Norman had feet in both worlds. He was respected by judges and by fancy professors from elite schools. And he knew the civil rights and civil liberties community. He could make those connections." Hays co-director Helen Hershkoff adds, "If there's any part of Norman's legacy that I think was most important to him, it's the more than 300 Hays Fellows the program has created and sent off into the world."
Dorsen also connected past and present. "He was not just the keeper of the institutional memory," Dean Trevor Morrison explains, "but the custodian of a set of institutional values in the school: the excellence of the faculty, the engagement of the school in issues that really matter."
Reflecting on Dorsen's legacy, Hershkoff, Herbert M. and Svetlana Wachtell Professor of Constitutional Law and Civil Liberties, speaks to Dorsen's sense of a longer historical arc for both law and Law School: "Everything he did was to ensure that institutions would be created, structures would be in place, norms would be created, junior people would be developed and encouraged, and the work would carry on."
At 86, Dorsen readily recounted the details of the McCarthy battle and the finer points of his Supreme Court arguments. "I even then wondered whether I would ever do anything again that was as important as working on those hearings," he said. "And, of course, I'm not sure what the answer is."
Through an often unglamorous accumulation of committee work and strategic litigation and steady advocacy, Norman Dorsen devoted his life to civil liberties, declining to claim as much credit as he might have for his many victories, large and small. Reflecting on his likely unique longevity as a law professor at a single school, Dorsen said, "When you're that person, first of all, you count your blessings. Second of all, especially since the institution has prospered so well, you consider yourself a very lucky man."
To untold numbers of students and colleagues, the luck was always mutual.
Senior Writer Atticus Gannaway is the author of a children's novel.
Top Dorsen photo: ACLU Archives | Personal photos courtesy of the Dorsen family
Posted September 1, 2017