The Law School recently announced plans to plant its flag on three continents, setting up NYU Law-designed and managed programs for its students to study in Buenos Aires, Paris, and Shanghai during their final semester of law school. This is just one of several initiatives the school is taking to enhance its curriculum, with a particular emphasis on the third year. The purpose of the changes is to ensure that NYU Law graduates are optimally equipped to compete in the twenty-first century legal marketplace.
Dean Emeritus Richard Revesz and Law School trustee Evan Chesler '75, who is chairman of Cravath, Swaine & Moore, announced the plans to students at a Milbank Tweed Forum on October 17 (watch the video from the event below). That morning, the New York Times ran a story about the new steps on the front page of its business section. In addition to the study-abroad programs, the initiatives include:
A Washington, D.C.-based Government Lawyering Clinic – Students interested in developing specialized expertise in the U.S. legislative and regulatory process will spend a 3L semester in Washington, dividing their time between fieldwork in a government agency and classroom study. The Washington, D.C.-based Legislative and Regulatory Process Clinic is being jointly taught by two of the foremost experts in Washington legal practice: Robert Bauer, former White House Counsel to President Obama, and Sally Katzen, a member of the Obama-Biden transition team who held a number of senior positions in the Clinton Administration. Combining the practical and the scholarly, the clinic's students will work four days a week in a federal agency or government office, but also attend a weekly seminar, as well as special sessions with senior government officials and guest lecturers.
Pathways – Faculty-designed "professional pathways" will guide students in a focused area of study and skill development in particular areas of law, the bulk of which they will pursue during their 3L year. Pathways are designed to help students who have developed interest in a particular career area (e.g., criminal practice, global legal practice, intellectual property, law and business, or tax) and make them highly competitive in the job market for that field.
Business and Financial Literacy and Leadership Training – A variety of programs will be offered during the course of the three-year J.D. program to increase business and financial literacy and training in leadership skills.
Joining Revesz and Chesler to offer more detail on the planned initiatives were Vice Dean Kevin Davis, who will oversee the study-abroad programs; Katzen, who will run the Legislative and Regulatory Process Clinic; and Melody Barnes, NYU's vice provost for global student leadership initiatives.
Background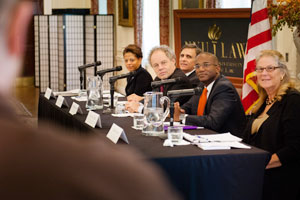 The new measures stem from recommendations made by a strategy committee formed by the Law School board of trustees. In May 2011, Revesz and board chair Anthony Welters convened the committee to explore how potential changes in the legal profession might affect the Law School. Strategy Committee members include trustees who are leaders at major law firms and general counsels at large publicly traded companies and asset management firms, among others with deep knowledge of the legal marketplace.
"In recent years, a variety of forces, including globalization, advances in technology, and the worldwide economic crisis, have significantly changed the way law is practiced in many organizations," said Revesz. "The steps we are announcing today assure that the education we offer is keeping pace with those changes."
The strategy committee, which Chesler chairs, also considered recent criticism of law schools raised in the media and elsewhere that asserts that law schools aren't teaching the practical skills demanded by today's employers, and raising questions about whether best use is being made of students' time during the third year. NYU Law was a pioneer in adding practice-oriented training, such as the first-year Lawyering course, to its J.D. program, and its curriculum today is rich in clinical offerings and simulation-based classes. But the new initiatives take this a big step further. NYU Law students will now have the opportunity to devote a significant portion of their third year to focused, skills-based study in specialized areas of the law, both in New York and at locations abroad.
"As the head of a major firm -- and as an active litigator who deals with client matters every day -- I am quite familiar with the changing needs of purchasers and providers of legal services," said Chesler. "All of us on the strategy committee saw an opportunity for NYU Law to enhance the skills and degree of focus its graduates bring to the marketplace. At the same time, organizations that practice law at a high level need attorneys with the intellectual breadth and nimbleness to handle the most sophisticated and cutting-edge assignments. Doctrinal classes that develop analytical and critical thinking ability thus also remain an essential component of a top-flight legal education. With the initiatives being announced today, NYU Law is assuring that its spectrum of offerings is rich and balanced, and that its students will continue to be among the most sought after in the legal marketplace."
The new measures will be implemented starting in the 2013-14 academic year.
Updated July 22, 2013
Originally posted October 17, 2012