Taking the form of a "fireside chat," the seventh annual Emile Noël Lecture on March 29 was a free-ranging discussion between Giorgio Napolitano, the president of Italy, and University Professor Joseph Weiler, director of the Jean Monnet Center for International and Regional Economic Law & Justice.
"For many people, especially in this delicate moment, you represent the best of Italy," said Weiler. Italy's "delicate moment" includes the ongoing legal troubles of Prime Minister Silvio Berlusconi, conflict between government branches, and high national debt.
Napolitano described his youth in Naples and how, as an undergraduate during World War II, he belonged to an anti-fascist group. In autumn 1942, he said, "I reached the conclusion that my country, Italy, had to lose the war, that we had to hope and wish Italy would be defeated. It was not a simple conclusion to reach for a boy of a rather traditional family. But discussing with friends, I understand that that was the only way to get rid of fascism and to have a new beginning for my country."
A member of the Italian Parliament from 1953 to 1996 (with the exception of one term), Napolitano has devoted his life's work to his nation's government. In 2005, he was made a senator for life. Still a popular figure at age 85, Napolitano, a frequent advocate for cooperation between left and right, said that Italy's biggest current difficulty is extreme partisanship.
"There is no dialogue," he said. "Nobody listens to the other. There is a risk of division of the country, and there is a risk of serious weakening of our prestige in the world.... My first duty is to put the emphasis on what unites Italy, not on what divides Italy, and to recall all Italians, all political parties, all social forces to the necessity of a certain acceptable and effective degree of national cohesion and national unity."
In broader terms, Napolitano said, the most difficult period in his career had been the "Years of Lead" between the late 1960s and early 1980s, when Italy was plagued by domestic terrorism, reaching a terrible crescendo with the assassination of former Prime Minister Aldo Moro: "From one day to another you didn't know who could be killed. Red Brigades were killing symbols blindly—a judge, a policeman, a politician—just to create emotion and destabilization."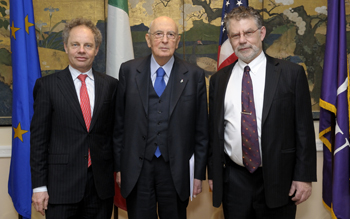 Napolitano reflected also on the political troubles of the European Union, which has seen decreasing voter turnout for its parliamentary elections and the failure at the polls of its original constitutional treaty. The president asserted that "European institutions have become a very comfortable scapegoat for national problems.... I think that national political leadership has the moral duty to tell the truth about what its responsibilities are and what the responsibilities of European institutions are."
Following the dialogue, Dean Richard Revesz presented Napolitano with the Presidential Medal of New York University, awarded to "leaders of extraordinary accomplishment," on behalf of President John Sexton. Calling Napolitano "a statesman whose outstanding contributions exemplify honor, ethics, and public service," Revesz then read from the official citation, which characterized Napolitano as "an eloquent voice of reason, toleration, and democratic values."
Watch the full video of the event (1 hr, 18 min):